Walk the Gavipuram Heritage Trail, including Sri Gavi Gangaadhareshwara Swamy Temple, like a Pro (2023)
Let me be honest! I had never explored many of the areas in Bengaluru prior to Bengaluru Prayana. Even though being born and raised in Bengaluru, I had seen very little of this city and what it has to offer. As part of our monthly exploration and guided walks, my friend Divya and I decided to explore Gavipuram, which included Sri Gavi Gangaadhareshwara Swamy temple. And this is how the Gavipuram heritage trail was born.
About Gavipuram
With rich history, Gavipuram is one of Bengaluru's oldest areas. Even today if you visit Gavipuram, you can see the old buildings, houses in vernacular style, and temples. Located between Chamrajpete and Basavanagudi areas, Gavipuram gets its name from the area's main deity Gavi Gangaadhareshwara, another name for Lord Shiva.
Gavipuram History
As I mentioned above, Gavipuram is one of the oldest areas in Bengaluru. When Kempegowda I, the founder of Bengaluru, marked his boundaries of the city, he built the western watch tower in Gavipuram. Gavipuram was supposed to be a fertile land back in those days and due to which the area was home to many lakes. It is also the area famous among the Hindus as there are many ancient temples.
About Gavipuram Heritage Trail
The Gavipuram Heritage Trail covers important landmarks in Gavipuram area. Starting from Kempambudhi lake, the trail passes through some beautiful temples and then ends at Hari Hara gudda. Total distance to cover these landmarks is just 1.5 kilometres and only takes about an hour.
6 things to see in Gavipuram Heritage Trail
Kempambudhi Lake
Built in the 16th century by Kempegowda I for his family deity Kempamma, the Kempambudhi Lake or Kempambudhi kere is one of the oldest lakes in Bengaluru. On 22nd April 1934, the lake came into highlight when a 12 year old girl Bhyramma set a very rare record by swimming for 12 hours at a stretch.
Unfortunately, the lake was a victim of untreated sewage and was almost destroyed. In 1985, there was a decision make to revive and rejuvenate the lake by Lakshman Rao Committee. Today, the lake is surrounded by a walking track and kid's play area. The government is making all efforts to keep the lake clean. There is also a swimming pool next to the lake.
Timings: 5 AM to 10 AM, and 4 PM to 8 PM everyday. I am not sure if they have hard closing of gates in between like the Sankey tank or Ulsoor lake.
Entrance fee: None. It is free.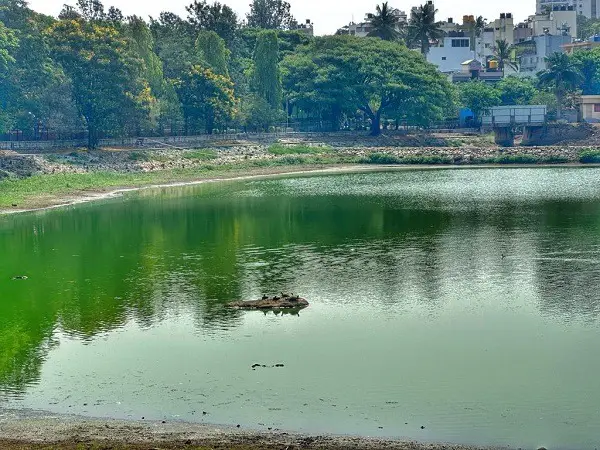 Sluice gates at Kempambudhi lake
The sluice gates at Kempambudhi lake were used to control the flow of water between the residential localities and the lake. These artistic stones were the fine examples of irrigation techniques used back in those days.
Today, unfortunately you can see these gates from far as there is so much of garbage near these historical monuments.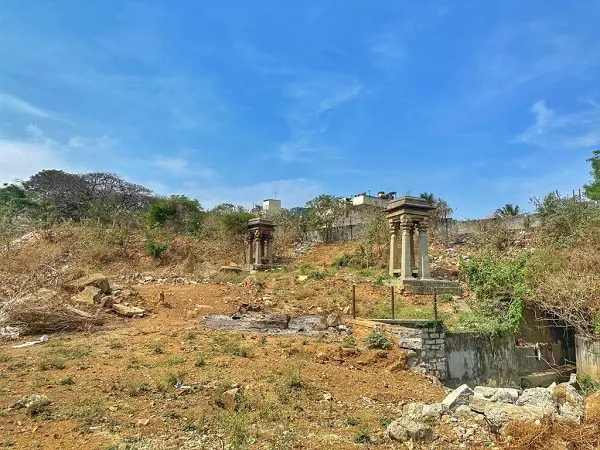 Sree Bande Mahakali Amma Temple
Situated next to Kempambudhi lake and opposite to Veerabhadra Swamy temple, Sree Bande Mahakali Amma temple is one of the powerful temples in the area. Believed to be 1200 years old, the main deity of the temple Mahakali is supposed to ward off any evil energy including that created by black magic.
Timings: 7 AM to 9 PM everyday.
Entrance fee: None. It is free.
Tip: Avoid visiting the temple on Tuesdays, Fridays and Sundays as it is extremely crowded on these days.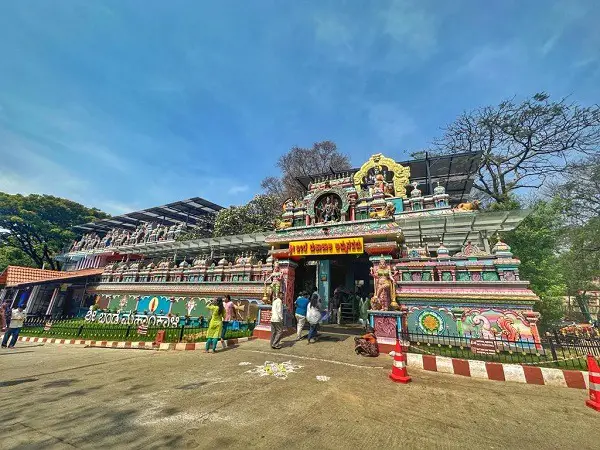 Kempegowda Tower
The Kempegowda tower at Gavipuram is one of the four Kempegowda watch towers that were built to mark the boundaries of Bengaluru city. Situated right behind Sree Bande Mahakali Amma temple, today the watch tower at Gavipuram is poorly maintained and forgotten.
Timings: 24 hours but there is a gate which can be closed during some celebrations at Sree Bande Mahakali Amma temple.
Entrance fee: None. It is free.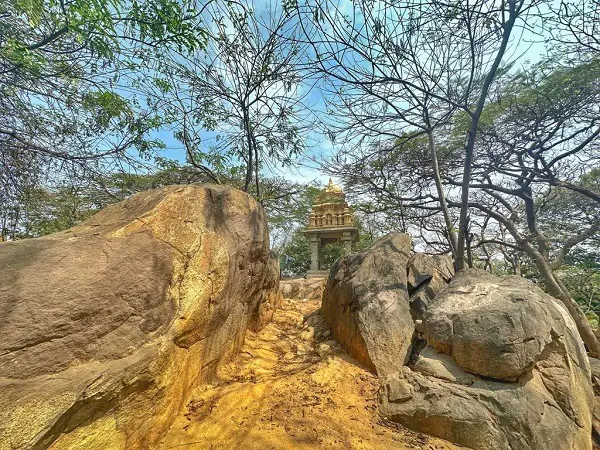 Sree Gavi Gangaadhareshwara Swamy Temple
The main temple of Gavipuram is Sree Gavi Gangaadhareshwara Swamy temple, which is dedicated to Lord Shiva. Situated in a cave, the idol was consecrated in the 9th century by Gautama Maharshi and Bharadwaja Muni in Vedic period. The temple was later renovated in the 16th century by Kempegowda I.
Built on an elevated area so to have the view of Kempambudhi lake, this cave temple has many beautiful stories. One such story is that on Makara Sankranti day every year, the evening sun ray passes through the horns of Nandi and falls directly on the Linga illuminating the interior of the cave.
Timings: 6 AM to 11 AM, 5:30 PM to 8:30 PM everyday.
Entrance fee: None. It is free.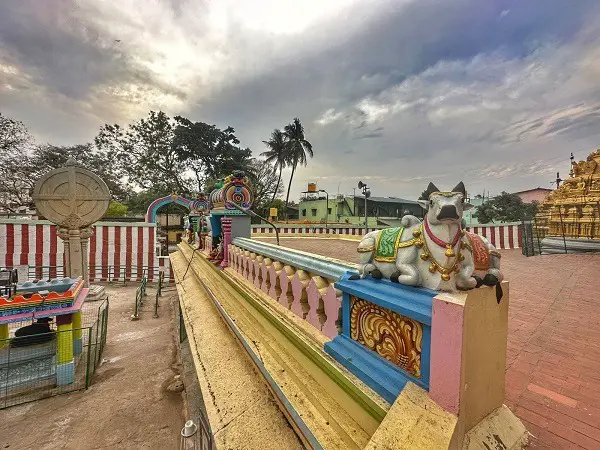 Sajjan Rao Samadhi
Born in 1868, Rao Bahadur Sajjan Rao was a philanthropist known for many charities, educational institutes and hospitals. A circle near Lalbagh is named after him and he was awarded as Dharma Prakasha by King of Mysore. His samadhi (burial) can be found opposite to the Sri Gavi Gangaadhareshwara Swamy temple.
Timings: 24 hours.
Entrance fee: None. It is free.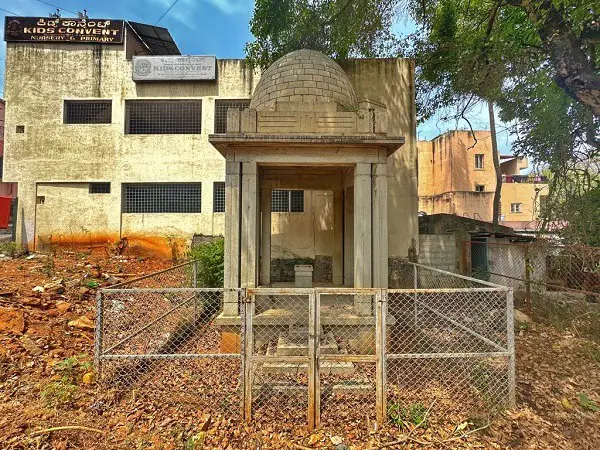 Hari Hara Gudda
Home to Hari Hareshwara Swamy (fusion of both gods Vishnu and Shiva) temple, the Hari Hara Gudda is a hillock and a park situated close to the Sri Gavi Gangaadhareshwara Swamy temple. The park is built in two levels and is a beautiful place to spend an evening.
Timings: 6 AM to 9 PM everyday.
Entrance fee: None. It is free.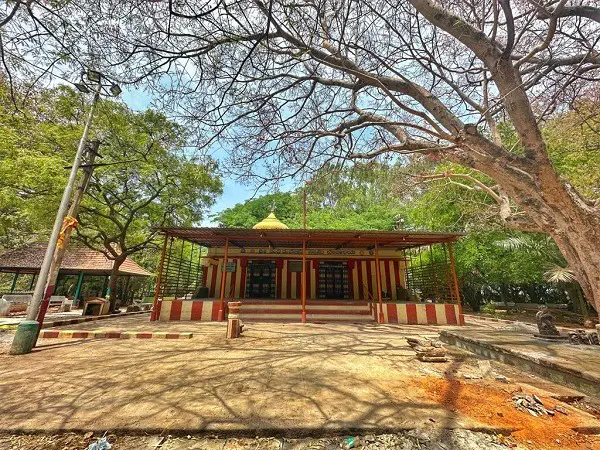 Stone umbrella
One of the notable structures on Hari Hara Gudda is the stone umbrella. Situated right behind the temple, this structure is supposed to be historical and ancient. Unfortunately, there is no documentation as to why and who built this structure. One of the theories is that this could be the Sudarshana Chakra (disc) associated to Lord Vishnu. The other theory is that this may be similar to the watch tower where it was used to keep a watch on the Sri Gavi Gangaadhareshwara Swamy temple.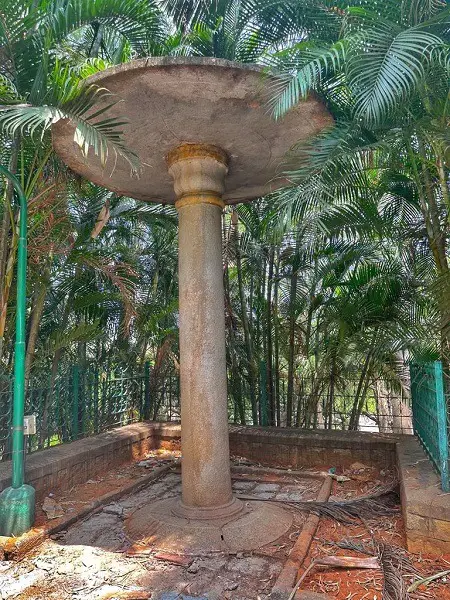 Closing Notes
Gavipuram history and Gavipuram heritage trail are both very interesting. And they have so many stories to speak. I am so glad to have explored the area and have found these interesting and hidden gems. Hope you enjoy this self-guided Gavipuram heritage trail and map out the landmarks you see along the way.
Book your stay in Bengaluru
If you enjoyed and liked this article, do comment, tweet or share this post.
Do you have a question or a suggestion? Or want to know more information? Write to me at bengaluruprayana@gmail.com.
PIN for later reference