You Will Love the Postal Heritage Trail in Bengaluru (2024)
The best way to explore any city is by walking. And the heritage trails are the best to know and understand the history of any city. A few weeks ago, I had an opportunity to explore the Postal heritage trail, which was jointly organised by India Post and Heritage Beku.
The heritage trail was followed by the inaugurations of Postal heritage trail augmented reality (AR) postcards, created by FlipAR, an e-book on Kodagu/ Coorg and a pen drive providing more information on the trail.
This article may contain affiliate links. For full information, please see our affiliate disclaimer here.
About Indian Post
Established in 1854, India post is part of Department of Post in India. It is a government operated postal system around the country and has 23 postal circles, each headed by a Chief Postmaster General. The postal service was initiated under the East India Company in 1766 and was formerly under the name Company Mail.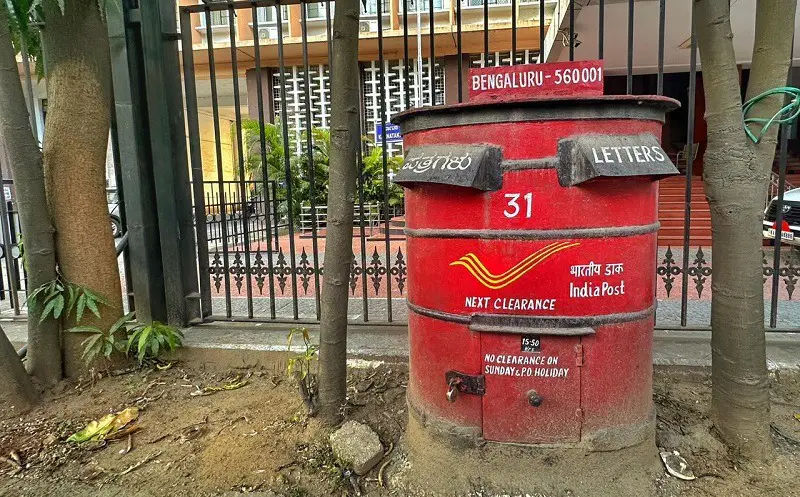 India Post offers many services such as mail delivery, money transfers, savings schemes, life insurance, bill collections, philatelic bureaus providing stamp collections, couriers, speed posts and many others. They also issue stamps based on the occasions, events and celebrations for collection purposes.
About Postal heritage trail
Postal Heritage Trail is a heritage trail that passes through some of the heritage buildings in Bengaluru city. These landmarks are related to the history of India post and the way it has evolved through these years. It was a trail that was organised and managed collaboratively by Heritage Beku and India Post.
Details of Postal heritage trail
Statistics of the walk
The Postal Heritage Trail is an easy walk that starts off at Mail Motor Service (MMS) building in Vasanthnagar and ends at The Evening Post Office at Museum road.
Total distance: 5 to 5.5 kilometres.
Total time taken: 3 hours.
Grade: Easy.
Path: MMS Bengaluru -> Taj West End -> Beaulieu -> Bengaluru GPO -> Sandesha museum -> The Evening Post Office.
Mail Motor Service (MMS) Bengaluru
Mail Motor Service (MMS) in Bengaluru is a functioning postal service that is used to send mails, including the letters and the packages, from one place to another place. Do you remember the red vans belonging to India Post that carry those letters between post offices around the city and other places? Well, these Mail Motor Service system ensures that these vans carry the right letters to the correct places.
According to history, the current MMS building was part of Castle Grace which has been in existence from the late 1920s. From 1936 onwards, the building belonged to Captain B D Naidu, which was then later inherited by his daughter Ms. Lalithamma. In 1976, the building was rented to MMS and in 1989, it was acquired by Central government and was handed over to Department of Posts.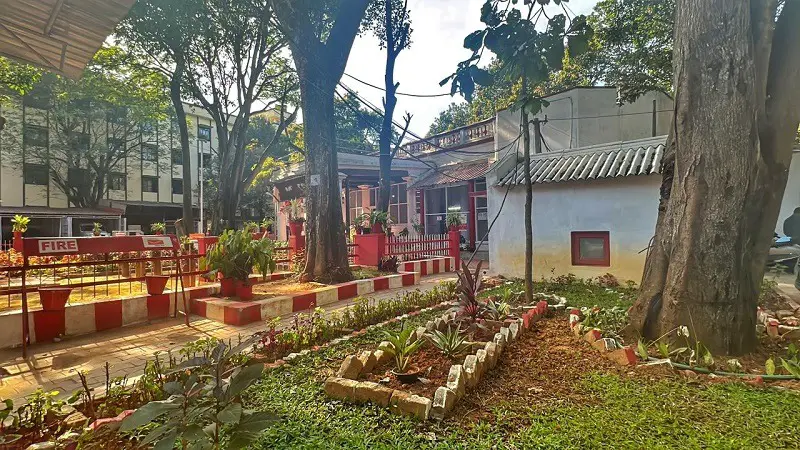 Oldest functional post box at Taj Westend Bengaluru
Located in the premises of Taj Westend Bangalore hotel on Race course road, there is an old functional post box which was one of the 100 post boxes that arrived from Britain to India to establish India Post. As part of the trail, we visited to see and hear the history of this post box.
Click here to check prices and availability for Taj Westend Bangalore on Booking.com
Located at the entrance of the hotel, you can visit the postbox and post your postcards from here even if you are not staying at the hotel. Note that this is a hotel and you are not allowed to wander around as that could be a hassle to the staying guests at the hotel.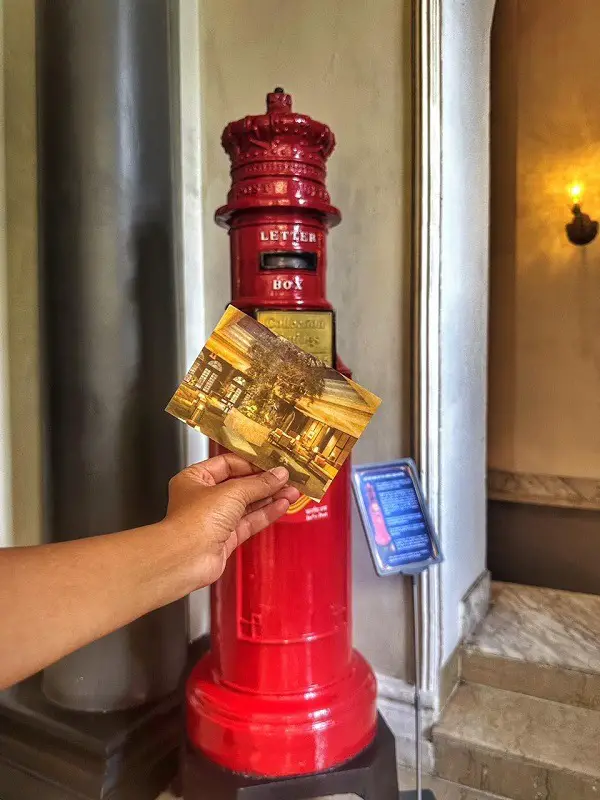 Beaulieu
Derived from the Latin words Bellius and Locus meaning beautiful place, Beaulieu is the office of the Chief Postmaster General of Karnataka postal service. Built in 1860, Beaulieu was created and designed by George Lancelot William Rickets. The building has been through various transitions, from farmland to a Britisher officer's bungalow and then to being the palace of Mysore's Royal family.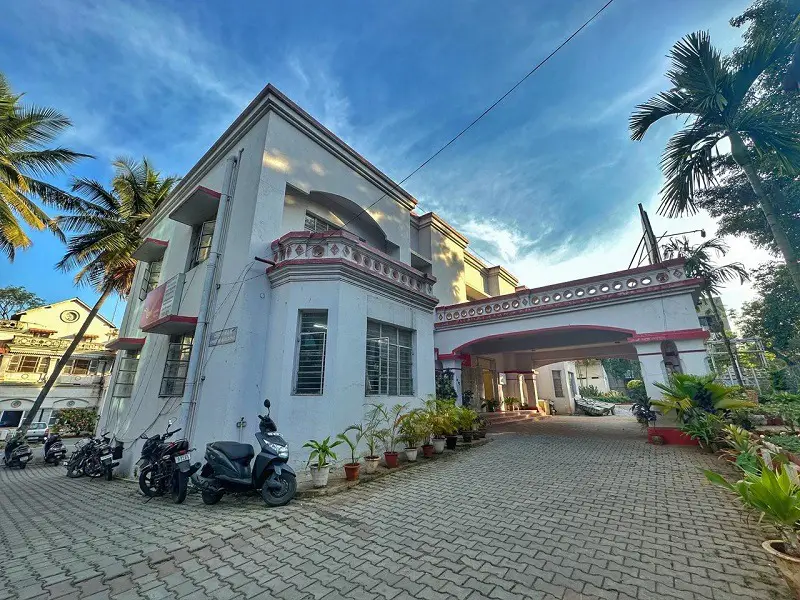 Bengaluru General Post Office (GPO)
Named as Bangalore's GPO in 1985, the building is one of the most iconic landmarks on Raj Bhavan Road. Also called as Bangalore One with pin code 560001, the Bangalore's GPO is second largest post office in southern part of India (the first one is in Chennai).
Bangalore GPO is open between 8:30 AM and 8 PM Monday to Friday, and between 8:30 AM and 6 PM Saturday. You can visit the building and take pictures from the outside, but remember that it is a functional building with postal services and working staff members.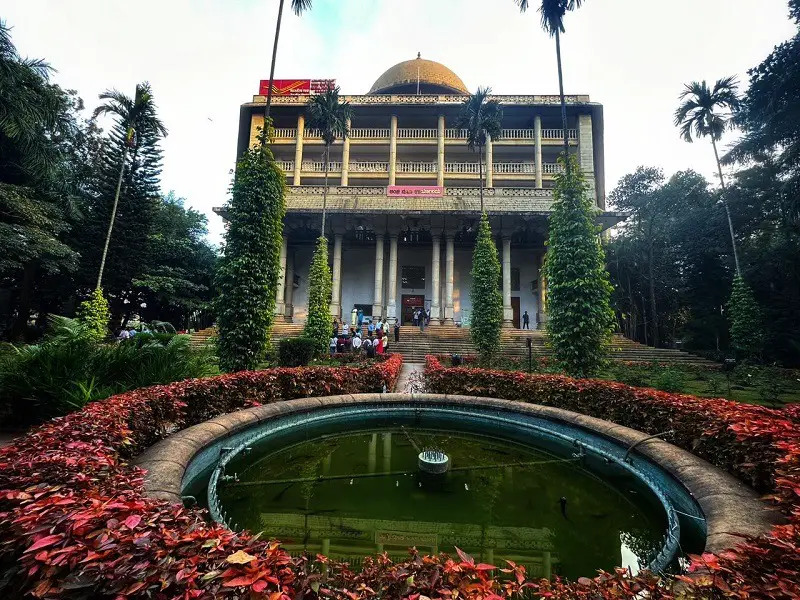 Sandesha, museum of communication
Located in a heritage building from 1804, Sandesha or Sandesh, the museum of communication, is a tribute to the history of Indian communication. Once used by the British, the museum holds valuable artefacts from the bygone era to the current technology used in communications.
The museum is open between 10 AM and 4 PM Monday to Saturday. And you need at least 30 to 60 minutes to learn and cover all the exhibits in the museum. There is no entrance fee to visit this lovely and cute museum.
Note at the inauguration of the evening post office, the Chief Post Master General Mr. Rajendra Kumar mentioned that they are thinking of renovating and improving the museum to make it more dynamic and pretty.
The evening post office
The star of the Postal Heritage Trail was the inauguration of the evening post office. With a café like ambience and with beautiful wall painting done by the transgender community belonging to Aravani art project, the evening post office is set to become a brand by itself. Open between 1:00 PM and 9:00 PM Monday to Saturday, the evening post office provides the below services:
Speed post and parcel booking
Aadhaar services
My stamp
Picture postcards – Do not forget to see the AR postcards of the trail, created by FlipARWorld!
Philately ancillaries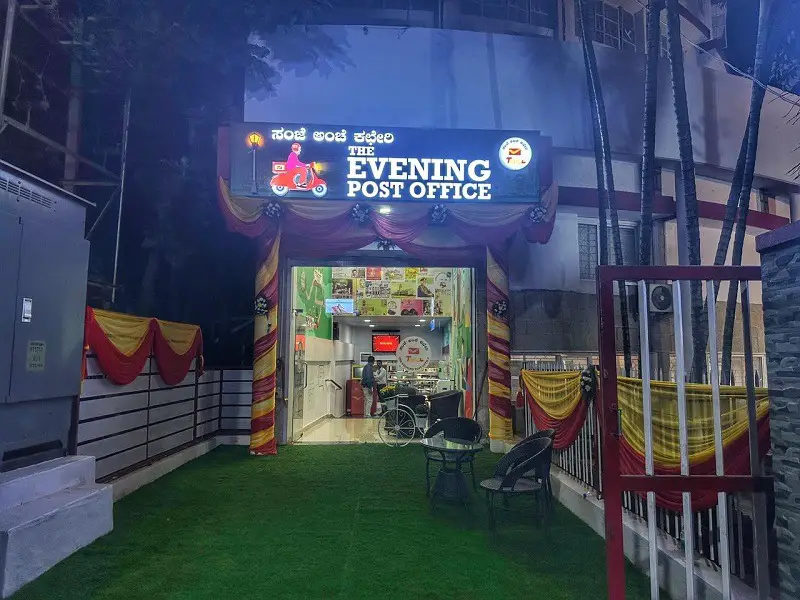 Closing Notes
Postal Heritage Trail was a courtesy from India Post and Heritage Beku and it was a one off event organised to inaugurate the evening post office. But this is a simple trail and does not require a lot of guidance except for hearing the stories about the buildings and landmarks. You can do this trail on your own. If you are a philatelic and love anything to do with India Post, surely do this trail as you will go back in time and enjoy what the communication was many decades ago.
If you enjoyed and liked this article, do comment, tweet or share this post.
Do you have a question or a suggestion? Or want to know more information? Write to me at bengaluruprayana@gmail.com.
PIN for later reference