Transport in Bangalore: Getting around the City in 2024
One of the initial things you want to know when you visit a city is how to get around the city. Both within and outside of the city. In this post, I am going to detail out the Transport in Bangalore. Be it within Bangalore or getting out of the city, this post should give you enough guidance.
This article may contain affiliate links. For full information, please see our affiliate disclaimer here.
Commuting in Bangalore
Getting around in Bangalore city is very easy and convenient as there are many options. You will find that Bangaloreans hardly walk between the places, one because there are just too many vehicles to help us get around and two because there are very few pedestrian paths.
By the way, are you looking for a wonderful place to stay in Bangalore? Then read the review of Taj Westend Bangalore.
Ranging from public transportation to taking cabs, we are just too spoilt. The main modes of transport in Bangalore are:
Public Transport:

Namma Metro.
Bengaluru Metropolitan Transport Corporation (BMTC) Buses.

Auto Rickshaw.
Taxis:

Uber or Ola.
Go Pink taxis.
By Public Transport in Bangalore
Bangalore has good connectivity of public transportation within the city. These modes are often used by many residents.
Namma Metro
The most convenient and fastest way to get to places is by the metro. Called as Namma Metro in Bangalore, these metros are the best when you have to avoid traffic. Operated by Bengaluru Metro Rail Corporation Limited (BMRCL), Namma Metro have two major lines that are operational:
Green line between Nagasandra and Silk Institute.
Purple line between Kengeri and Baiyappanahalli.
Same Purple line travels between K. R. Puram and Whitefield.
The metros in Bangalore operate every day, including the weekends. They run between 5:30 AM and 11 PM. The frequency of these metros vary between weekdays and weekends.
The fare for Namma Metro is paid using cash, debit/credit cards or Unified Payment Interface (UPI) payments. You can travel in Namma Metro using three modes:
Buying a token at ticket counters, available at the entrance of each metro station.
Namma Metro transportation card, which is a contactless card. This is topped up either online or at ticket counters, available at the entrance of each metro station. This card cost Rupees 50 and then you top it for a maximum of Rupees 3000. When this card is used, you get a special discount of 5% off the fare.
QR code based ticket. This is a messaging service where you can purchase ticket using many options, such as Whatsapp, Namma Metro app, PayTM and Yatra app.

Valid for one day, this ticket purchasing is quite simple.
You select the entry and exit metro stations through the chatbot on Whatsapp number 81055-56677. The chatbot will display the amount you need to pay. Once you make the payment and when successful, the QR code is provided to you which is then used at the stations you selected.
There is a facility of purchasing group tickets (for up to 25 people). These tickets are valid for single journey and are purchased at ticket counters, available at the entrance of each metro station. The only catch is all the people in the group have to start and end their journey at the same station.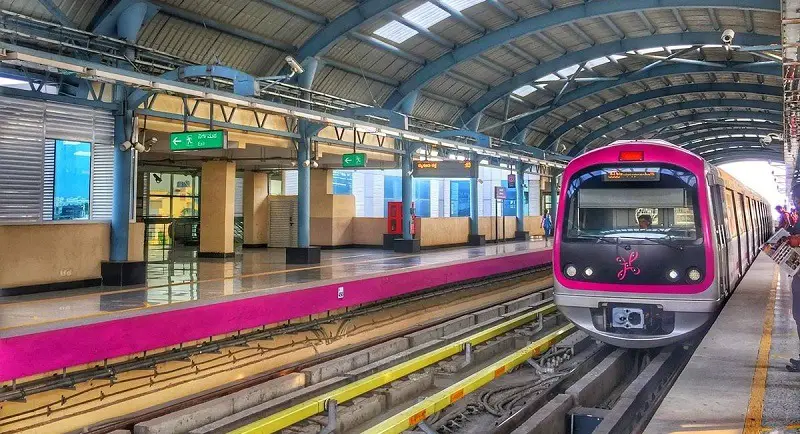 BMTC Buses
Bengaluru Metropolitan Transport Corporation (BMTC) buses are the buses to travel within Bangalore city. They are state owned public buses that have good connectivity across the city. BMTC buses were the first state run transport union to introduce Volvo buses and today, there are more than 1000 buses operating. The main bus stop in Bangalore is the Majestic bus stop and every bus starts and ends at this main bus stop.
Did you know that BMTC runs Bengaluru Darshini that takes you around the Bangalore city and shows you some of the important landmarks within the city? Prices for the Bengaluru Darshini starts from Rupees 420 per adult.
The fare for the BMTC buses, which is the most affordable among others modes of transport, have to be paid only by cash. And when you are traveling by BMTC bus, make sure to have an accurate change for your fare. There are various passes, such as student pass, monthly pass among others, where you can purchase a BMTC transport pass if you are a frequent traveler. Buying a pass also provides you with a discount.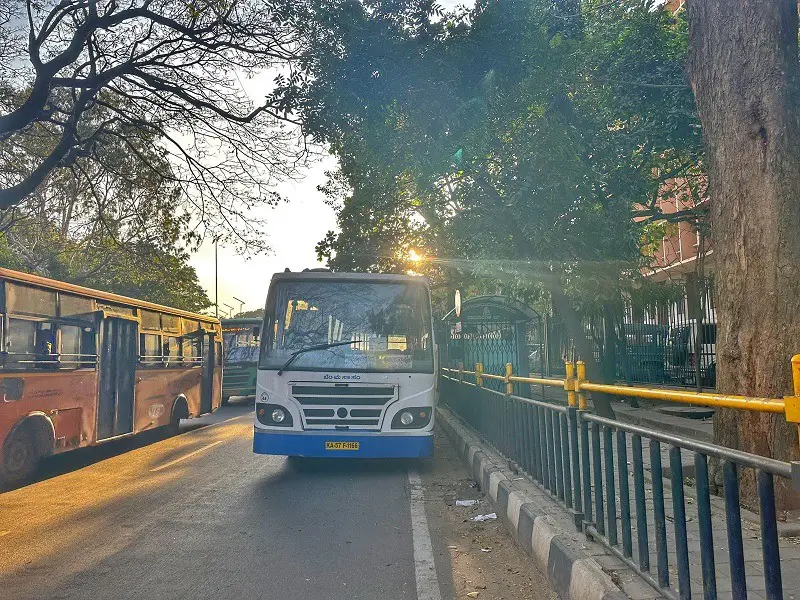 By Auto Rickshaws
The easiest was to travel in Bangalore is by taking these auto rickshaws. Good for short distances, the auto rickshaws dominate Bangalore streets and these vehicles have bright yellow roofs with green bodies.
The fare is calculated according to the metre installed in every auto rickshaw that starts from Rupees 30 for the first 2 kilometres and then Rupees 15 for every kilometre after that. These charges are applicable from 7 AM to 10 PM. Anything outside of these times, the fare is calculated as double the amount displayed on the metre.
Unfortunately, some of these auto drivers are greedy and try to extort money from the locals and tourists. They charge way more than the actual metre. Do not encourage them and always go by the metre.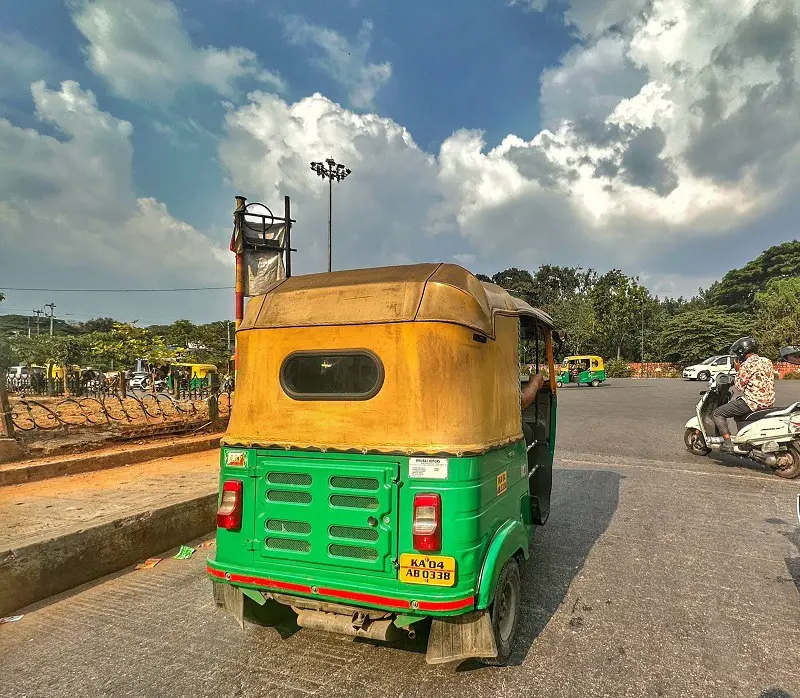 By Taxis
The best and hassle free travel is by taking taxis. There are many taxis around the city and most of these are affiliated by either Uber or Ola Cabs.
Uber or Ola Cabs
The Uber or Ola Cabs are the convenient mode of travel. But these cost higher than the public transportation. The cabs are either booked through Uber or Ola apps, that are available on Android and iPhones.
It is quite simple to book them. You select the pick-up and drop locations, select the payment method (always select Cash as cab drivers like it when they receive cash). The app will send you an OTP (unique number) once booked and this OTP needs to be given to the driver at the start of the journey. This is to ensure the safety of the traveler and to make sure the trip is tracked. At the end of the trip, you either pay cash or pay by UPI.
Ensure to call the driver and check if they are coming to pick you up. The Uber and Ola Cab drivers have a bad habit of canceling the bookings if the distance is too short or if they do not want to go to a destination.
Go Pink Taxis
Another great initiative is the Go Pink Taxis. This is specifically for women travelers and are driven by women drivers. If you are a woman, you can opt for these taxis when you are traveling at odd hours and want to feel safe. Male travelers are not allowed to take these taxis.
The fare for these taxis are higher than Uber or Ola cabs. And these are again paid either by cash or UPI.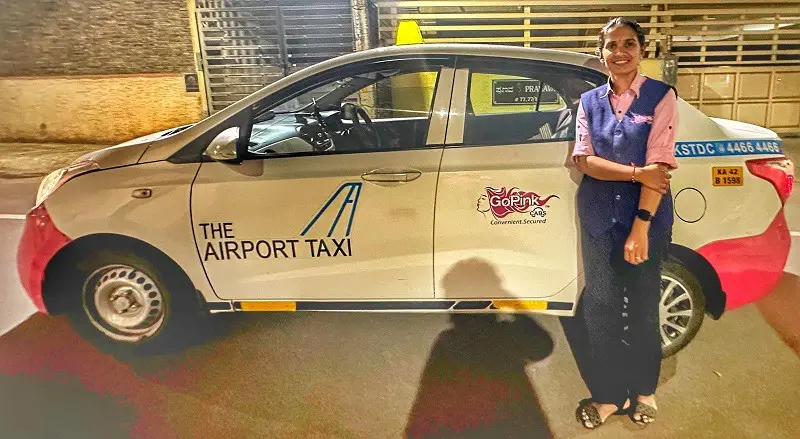 Commuting out of Bangalore
Traveling out of Bangalore is as easy as traveling inside Bangalore city. There are good buses and trains connectivity. If the distances are far from Bangalore city, then there are always the flights.
Indian Railways
The trains in India have one of the best network system and they cover more than 68000 kilometres. There are so many trains that take you everywhere around the country, including from Bangalore and have really good frequency and connectivity. IRCTC is the official website and the tickets have to be booked well in advance as the tickets do get sold out very quickly.
The main train station in Bangalore is the Majestic train station, and most of the trains start or stop here. You can pay the fare using any UPI method, credit/debit cards or Net banking on the website. There is also a mobile app with the same name IRCTC that is used to book and manage train tickets.
IRCTC have 9 types of seat booking and are listed below in the order of prices and comfort (descending):
Executive Chair Class (EC) – Air Conditioned
First Class (1AC) – Air Conditioned
Two-Tier Class (2AC) – Air Conditioned
Three-Tier Class (3AC) – Air Conditioned
First Class (FC)
AC Chair Class (CC)
Sleeper Class (SL)
Second Class (2S)
Unreserved/General Class (2S)
The fare is calculated based on the class selected and the number of tickets. Indian Railways are known for the cheapest prices and they are the most economical way of traveling in the country. Note that they can only be booked within the 3 months of your departure date.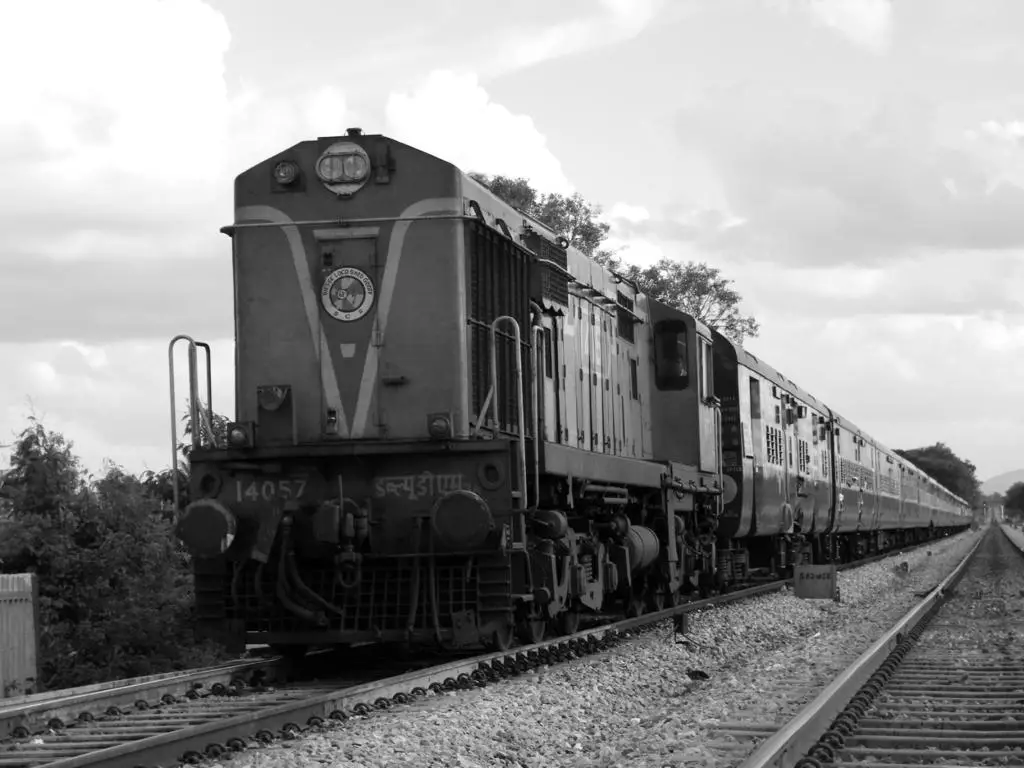 KSRTC Buses
Karnataka State Road Transport Corporation (KSRTC) buses are the best to travel within Karnataka state. Owned by Government of Karnataka, these KSRTC buses connect Bangalore to almost every town, city and village in the state. They also connect to the neighbouring states such as Tamil Nadu, Kerala, Telangana, Andhra Pradesh, Maharashtra and Goa, and Pondicherry territory.
With really good class of buses, KSRTC stand out when compared to other buses in the state. Headquartered in Shantinagara (Bengaluru), the KSRTC buses also mostly start and end at Majestic bus stop. Some of these buses, especially to Mysore, start and end at Satellite bus stop.
The bookings for the KSRTC buses are made online and it is best to book them well in advance as they do get sold out pretty quickly. Note that they can only be booked within the 3 months of your departure date.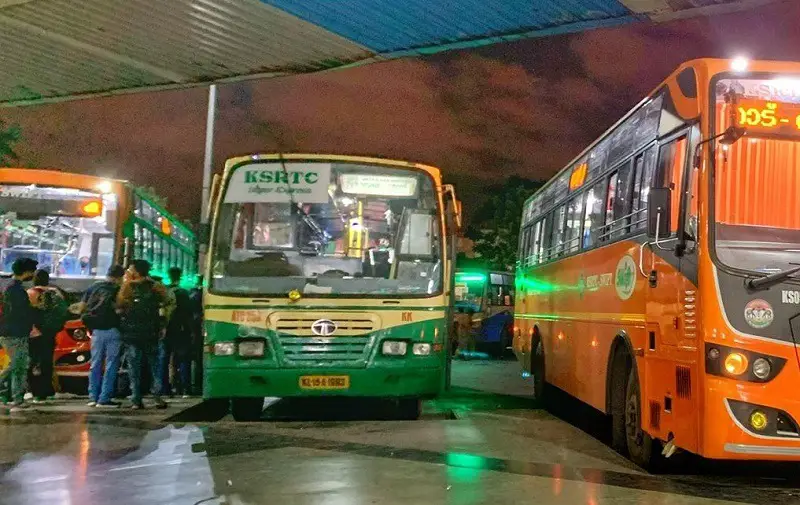 Closing Notes
As you can see, Bangalore has a very good transport system. Be it within the city or to travel outside, there are plenty of options. Transport in Bangalore is very easy and convenient to all travelers and locals. Most of the drivers speak English and there should not be too much of an issue communicating with them.
If you enjoyed and liked this article, do comment, tweet or share this post.
Do you have a question or a suggestion? Or want to know more information? Write to me at bengaluruprayana@gmail.com.
PIN for later reference – Transport in Bangalore