Discovering Devanahalli Fort: Unraveling the History of Bangalore's Ancient Stronghold (2024)
Even though Bangalore stands tall as a technological powerhouse, the city has many hidden gems that are still waiting to be discovered. These treasures are a testimony of history and culture for centuries, and witnessed the rise and fall of empires. One such hidden landmark is the Devanahalli Fort. In this post, you will unwrap the layers of time that shroud the Devanahalli Fort.
This article may contain affiliate links. For full information, please see our affiliate disclaimer here.
About Devanahalli Fort
Built by Vijayanagara Empire Chieftain Malla Byre Gowda of Avathi in 1501, Devanahalli Fort is an ancient mud fort. Changing between the various dynasties, including Vijayanagara Empire, Marathas, and the Mysore Kingdom, the fort reflects a blend of Dravidian and Indo-Islamic architectural styles.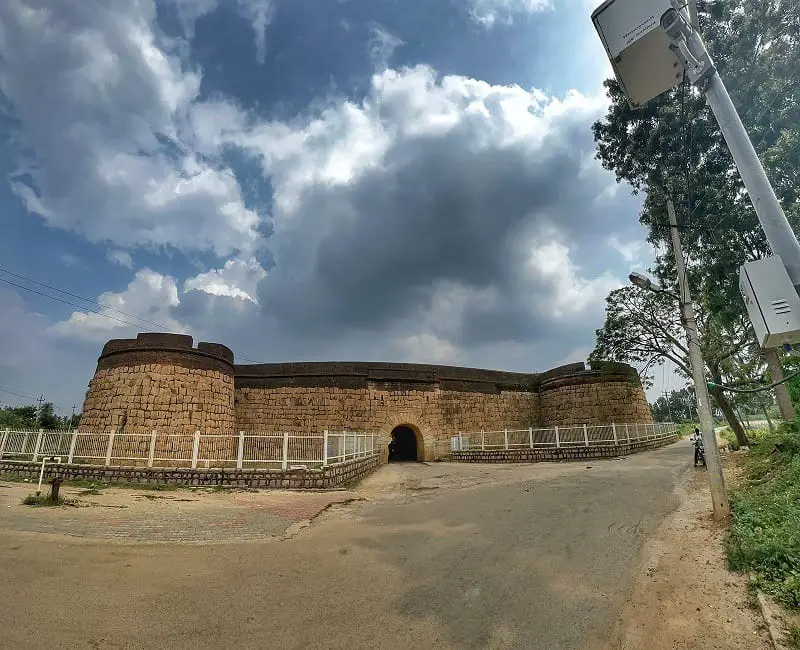 History of Devanahalli Fort
Constructed as a mud fort, the fort was originally built by Chieftain Malla Byre Gowda in 1501 and it remained in the hands of Vijayanagara Empire until the mid-18th century. It was later conquered and occupied by the Dalwai of Mysore Nanjarajaiah in 1749. The fort was subsequently passed on to Hyder Ali and then to Tip Sultan. Tipu Sultan also renamed the town as Yousafabad (the abode of Yousuf, the finest man). Until the fort was taken over by Lord Cornwallis in 1791 during the Anglo-Mysore War.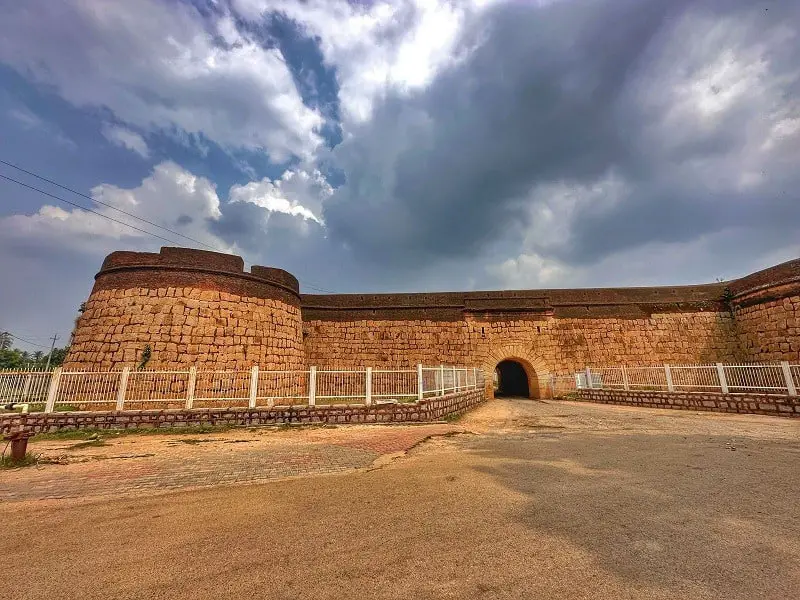 According to the local stories, a family of fleeing refugees from Kachipuram camped at the foot of Ramaswami betta, near Nandi Hills. Their leader Rana Byre Gowda was instructed in a dream to build a settlement in that region. His family belonging to Morasu Wakkalu family settled in a small village named Ahuti which is now called Avati. Rana Byre Gowda's son Malla Byre Gowda set up Devanahalli, Chikkaballapura and Doddaballapura. During that time, he constructed the Devanahalli fort under Vijayanagara Empire. Gudibande Fort is also constructed by Byre Gowda in the 17th century.
Visitor Information
There is no entrance fee to get inside the fort.
The best time to visit the fort is in the morning or during sunset.
You need an hour to explore the fort.
There are stairs on either sides of the wall where you can climb up to the top of the fort.
You cannot fly your drone at Devanahalli Fort as it is within the restricted zone due to the airport.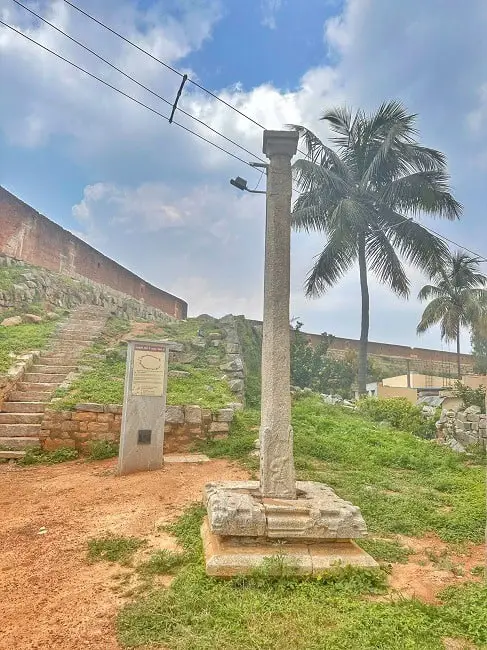 How to get to Devanahalli Fort?
By Air
The closest airport to the fort is Kempegowda International Airport. It is just around 14 kilometres from the airport and takes only 15 to 20 minutes by car. You can either take a taxi or a public bus from the airport.
By Road
The fort is around 35 kilometres from Bangalore city and by road, the journey takes up to an hour. This route has tolls and is towards the airport.
By Public Transport
Bangalore is well connected with various modes of transportation within the city. There are Bangalore Metropolitan Transport Corporation (BMTC) buses that operate between Yelahanka and Devanahalli. You can also take a bus from Majestic / Kempegowda bus station to Sadahalli Gate and then take another bus to Devanahalli Old Bus Stop. The journey from Majestic bus station to Devanahalli Old Bus Stop takes around 1 hour 45 minutes. Note that you need to pay the fare on the buses either by UPI or cash.
Other places to visit near Devanahalli Fort
Tipu Sultan's Birthplace
Known for his valor and his role in the four Anglo-Mysore Wars, Tipu Sultan, also known as Sultan Fateh Ali Sahab Tipu, was born on 20 November 1750 in Devanahalli. Close to the Devanahalli Fort is the birthplace of Tipu Sultan which is a historical site. Archaeological Survey of India (ASI) board has declared this and the fort as protected monuments.
Did you know that there is a Tipu Sultan Summer Palace in Bangalore?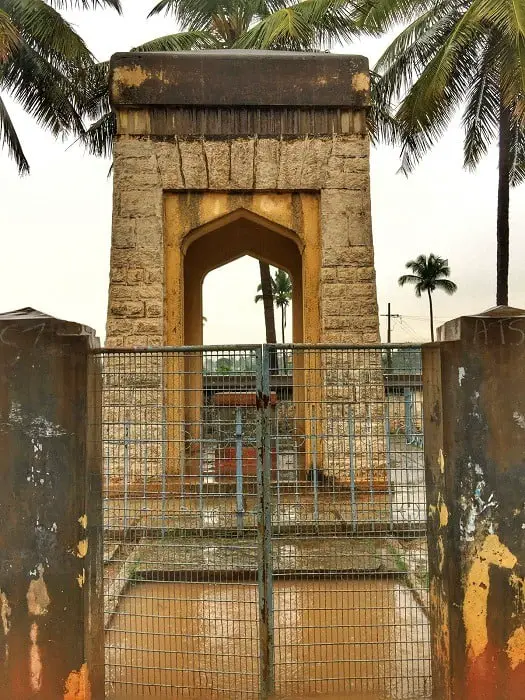 Kote Venugopalaswamy Temple
Dedicated to Lord Vishnu, the Kote Venugopalaswamy Temple is within the Devanahalli Fort. Constructed in Dravidian style, the temple walls have depictions and stories from Ramayana and the scenes of Lord Krishna as a child. It is surely one of the most beautiful and historical temples to visit in and around Bangalore.
The temple is open every day between 8 AM and 11 AM, and between 6 PM and 8 PM.
As this is a religious site, ensure to dress modestly and leave your footwear outside before entering the temple.
Kempegowda International Airport T1
The complex around Kempegowda International Airport Terminal 1 is an amazing place to hang out over the weekends or at nights. There are plenty of restaurants and cafes where you can dine in. It is a hi-tech space where you have many international branded shops too.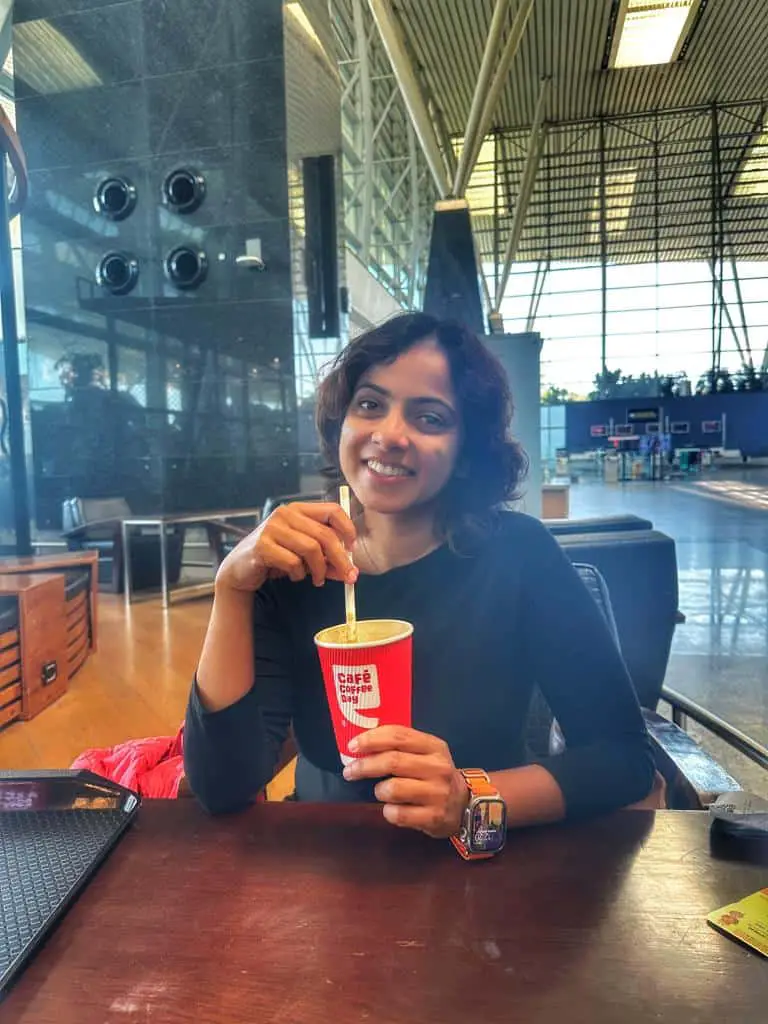 Frequently Asked Questions (FAQ) about Devanahalli Fort
Q: Where is Devanahalli Fort located?
Located around 35 kilometres from Bangalore, the fort is near the Kempegowda International Airport in the town of Devanahalli.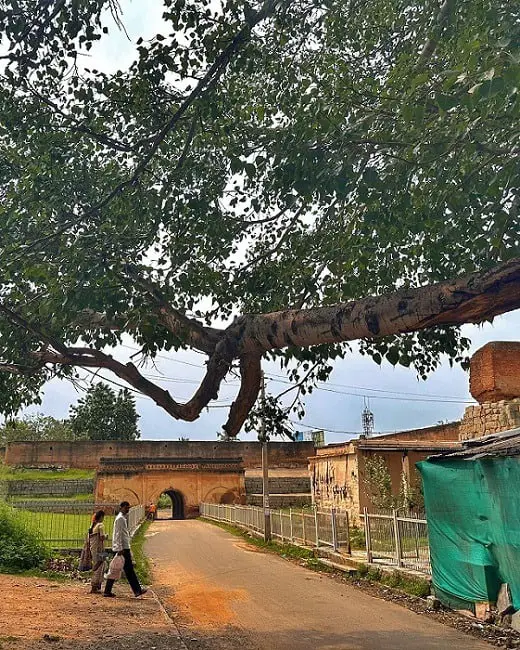 Q: When was Devanahalli Fort built?
The fort was built in 1501 by Chieftain Malla Byre Gowda of Avathi. It was originally a mud fort.
Q: Is Devanahalli Fort open to the public?
Yes, the fort is open to public. Walk up to the top of the fort and also wander around inside the village.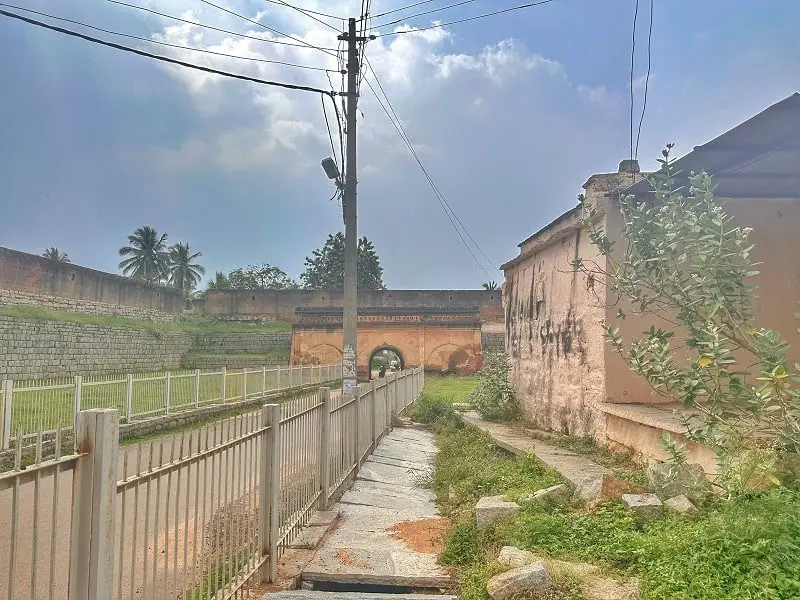 Q: How can I reach Devanahalli Fort from Bengaluru?
The fort is along the highway from Bangalore to Chikkaballapura on the airport road. It is best to either drive or ride as it is only 35 kilometres from the city.
Some of the other places that you can visit in Chikkaballapura are Isha Foundation, Avalabetta, Skandagiri, birthplace of M. Visvesvarayya Muddenahalli, and Kaurava Kunda.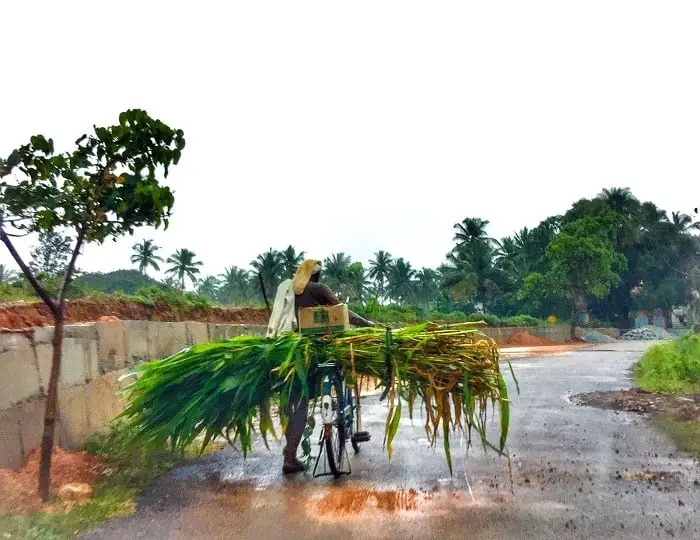 Q: What is the best time to visit Devanahalli Fort?
It is best to visit the fort either during morning or at sunset.
Q: Can I take pictures of Devanahalli Fort?
Yes, you can take pictures of the fort.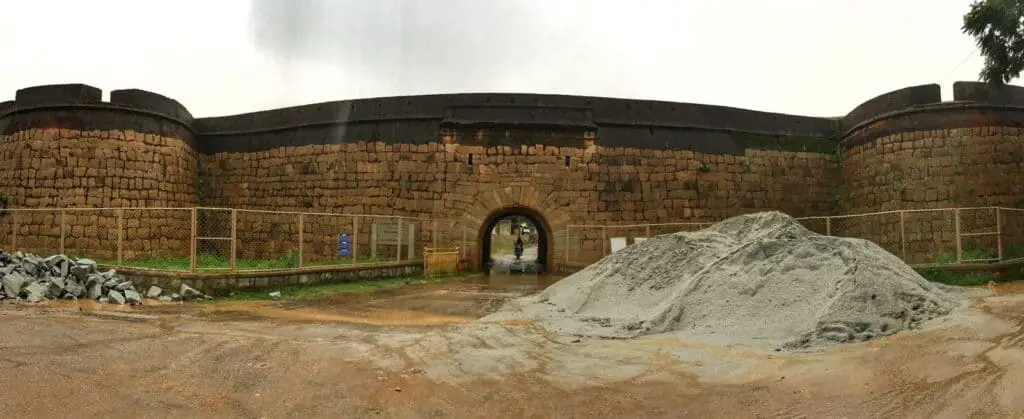 Q: Can I fly a drone over Devanahalli Fort?
No, Devanahalli Fort is within the restricted zone and so you cannot fly your drone.
Closing Notes
Standing as a guardian of the past, Devanahalli Fort continues to remind everyone that even amidst the whirlwind of modernity, it's essential to connect to our heritage and roots, and to preserve the historical treasures that are part of our culture.
Have you visited this amazingly beautiful prized possession of Bangalore?
How can you support me?
You know how much I love coffee, so you can buy me a coffee – Buy me Coffee!
Or you can purchase from my Travel Resources without any extra charge to you:
– For flight bookings – Use Skyscanner
– For stay and accommodations – Use Stay22
– For a comprehensive travel insurance – Use SafetyWing
– For tours and activity bookings – Use Viator or GetYourGuide
---
If you enjoyed and liked this article, do comment, tweet or share this post.
Do you have a question or a suggestion? Or want to know more information? Write to me at bengaluruprayana@gmail.com.
Subscribe to my newsletter
PIN for later reference