Complete Guide to Lalbagh Botanical Garden Bangalore (2024)
One of the other public parks to visit other than Cubbon Park is the Lalbagh Botanical Garden Bangalore. Both these parks are important landmarks in Bengaluru. We locals love these parks and are very proud of these green spaces in the city.
This article may contain affiliate links. For full information, please see our affiliate disclaimer here.
Are you looking for a place to stay in Bangalore/Bengaluru? Book the best hotels in Bengaluru here:
About Lalbagh Botanical Garden Bangalore
With more than 1000 species of plants, including the local and imported species, the Lalbagh Botanical Garden Bangalore is spread over 240 acres of land. Lalbagh means Red Garden, which may have been named because of its flower composition in the garden.
Lalbagh Botanical Garden is open everyday between 6 AM and 7 PM and there is an entranc fee of Rupees 30 per person. These tickets can be purchased at the entrance gates. There are four entrances in each direction for Lalbagh:
North gate.
East gate.
West gate.
South gate.
History of Lalbagh Botanical Garden
Lalbagh Botanical Garden Bangalore has a history of more than 200 years. It was started by Hyder Ali and then completed by Tipu Sultan, ruler of Mysore. Believed that they both were very fond of plants and flowers, they would trade with other parts of the world for bringing in exotic species of plants. And this is the reason why you can see trees and plants from various parts of the world in the park. One such tree that you can find in the park is the African Boabab tree that is from African continent.
Things to do in Lalbagh Botanical Garden
Lalbagh Botanical Garden has so many things to do and see. From walking around the park to having a nice picnic, the park is perfect for spending a day.
Note: No digital cameras are allowed inside the park.
The park is home to many snakes, including cobras, so make sure to not step outside of the marked paths.
Some of the things that you can do in the Lalbagh Botanical Garden:
Walk on the Lalbagh Heritage Trail.
Visit the Glasshouse.
Watch the birds at Lalbagh lake.
Attend a concert at Band stand.
Go back in time with the hero stones.
Admire the art installations.
See the Peninsula Gnesis.
See the Fossil tree and African Boabab tree.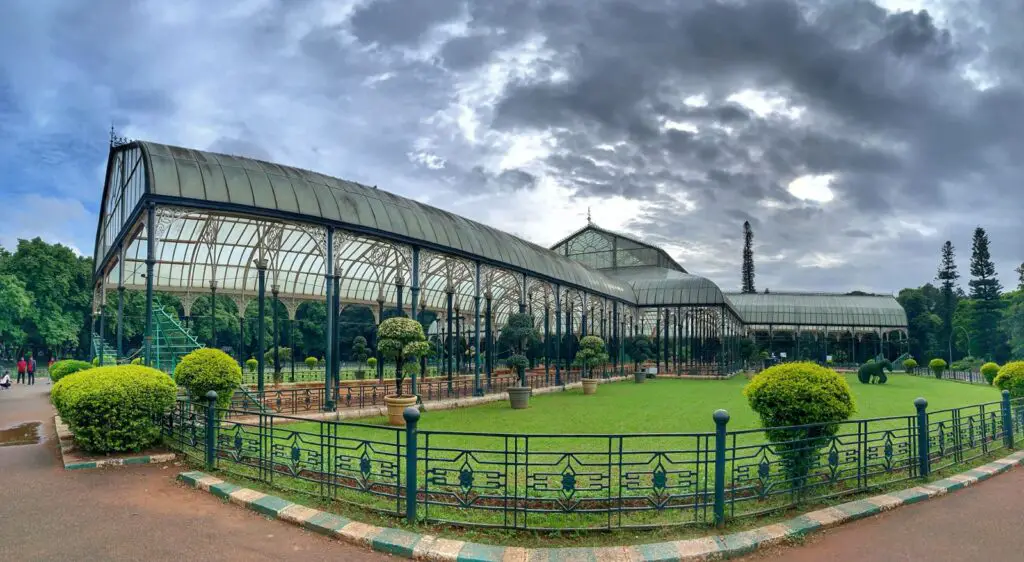 Places to stay in Bangalore
Taj Westend Bangalore
One of the most beautiful properties to stay at is the Taj Westend Bangalore on the Race Course Road. Located in the city centre, this 5 star hotel is perfect to navigate around the city.
Click here to check prices on Booking.com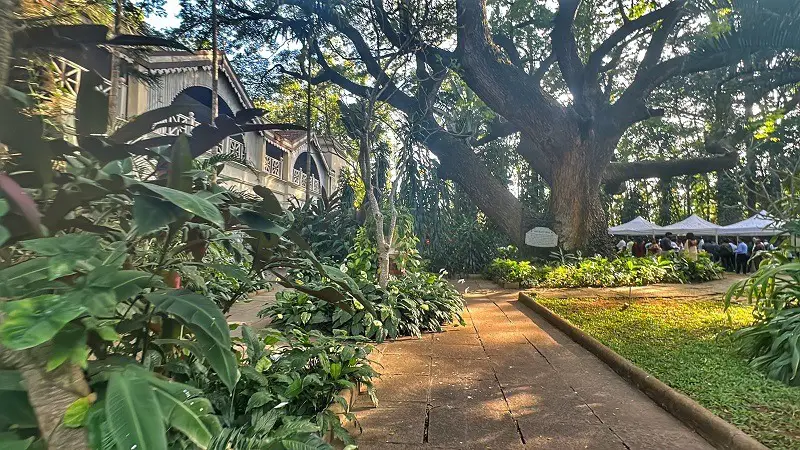 The Leela Palace Bangalore
Another great place to stay is at The Leela Palace Bangalore. With lavish and luxurious rooms, this 5 star hotel is located near the Old Airport of Bangalore.
Click here to check prices on Booking.com
How to get to Lalbagh Botanical Garden?
By Air
The closest airport is the Kempegowda International Airport. Many airlines, including Air India, IndiGo Airlines, Spice Jet, operate from Kempegowda International Airport. The airport is around 35 kilometres and the journey by road takes up to 50 minutes. You can hire cabs from the airport and the best ones are the Meru cabs, Uber or Ola.
By Road
Located in Mavalli area of Bangalore, Lalbagh Botanical Garden is around 4 kilometres from the city centre (Bangalore General Post Office 560021) and it only takes about 10 minutes to drive. The roads are in good condition but note that there could be heavy traffic in certain areas.
There is a paid car parking at the east gate and the parking cost around Rupees 30 to 50.
By Public Transport
The best way to get to Lalbagh Botanical Garden Bangalore is by taking a metro. There is a metro station by the name Lalbagh which is walkable distance to the west gate of Lalbagh. Namma Metro website provides the up-to-date information on timings, routes and fare.
Also read | Transport in Bangalore: Getting around the city
Closing Notes
I highly recommend visiting Lalbagh Botanical Garden Bangalore when you are in the city. It is that beautiful piece of the city which has history and heritage. With lots of joggers and walkers around, the vibes of the park is absolutely amazing.
If you enjoyed and liked this article, do comment, tweet or share this post.
Do you have a question or a suggestion? Or want to know more information? Write to me at bengaluruprayana@gmail.com.
PIN for later reference