7 Reasons to Walk the Malleshwaram Street Art Trail (2024)
Street art is a way through which artforms are displayed on public spaces such as buildings, streets, and any other publicly viewable platforms. There are many reasons why street art is important for community. Well created street art is positive and bold. During the pandemic, Malleshwaram got its street art makeover to promote the conservancy lanes and to make them more beautiful so people can start using them. There are plenty of reasons why one should walk the Malleshwaram street art trail and in this post, I would like to mention the top 7 reasons why one needs to walk and enjoy the Malleshwaram street art trail.
Did you know that street art and graffiti are different? According to a blog by Columbia University, Street art is image based and graffiti is word based.
This article may contain affiliate links. For full information, please see our affiliate disclaimer here.
About Malleshwaram
Named after the temple Kadu Malleshwara, the area of Malleshwaram is one of the oldest areas in Bengaluru. Located in the north western part of Bengaluru, Malleshwaram is very rich in culture, art and history. The area was planned in 1889 after the great plague and the area is designed in such a way that there are two main streets with perpendicular roads intersecting them.
Also read | 5 things to do in Malleswaram
How do you get to Malleshwaram?
Metro – Traveling my metro is the most convenient, and fastest way in Bengaluru. The nearest metro station to Malleshwaram is Mantri square metro station. It is around a kilometre from the main street of Malleshwaram. Namma Metro has all the details on routes, fare and timings of metros.
Driving – Malleshwaram is around 8 kilometres from Mahatma Gandhi (MG) road. And by road, the journey takes around 15 minutes when there is less traffic.
7 reasons to walk the Malleshwaram street art trail
If you love exploring an area by walk, then you will also like the Halasuru or Ulsoor heritage trail.
Reason 1 – It brings out culture and history of Malleshwaram
A few years ago, Malleshwaram was painted with 12 amazing murals. As part of the project 'Malleshwaram Hogona', a group of artists, called Geechugalu, painted the streets with art that have cultural, and historical significance related to the area. All the murals signify and showcase the things that we saw and enjoyed in Malleshwaram while growing up in the area. These street art also display about the cultural and history aspects.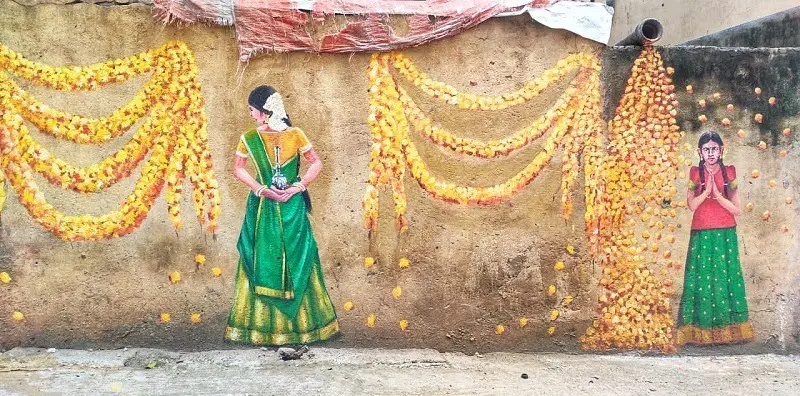 Reason 2 – These art make the streets and lanes look pretty
As I mentioned in the beginning, these street art were an initiative to make the conservancy roads beautiful and usable. Earlier these conservancy roads were used as parking spaces by the residents of Malleshwaram. These were the lanes that were forgotten. Because of these street art, the lanes now look colourful and inviting.
We at Bengaluru Prayana conduct Malleshwaram street art walk to take our guests through these pretty lanes where they can not only see these huge and meaningful murals, but also hear the stories and importance of these art. Contact bengaluruprayana@gmail.com or info@bengaluruprayana.com to find out when our next scheduled walk is! Or alternatively you can keep a watch on our meetup page to see the scheduled walks.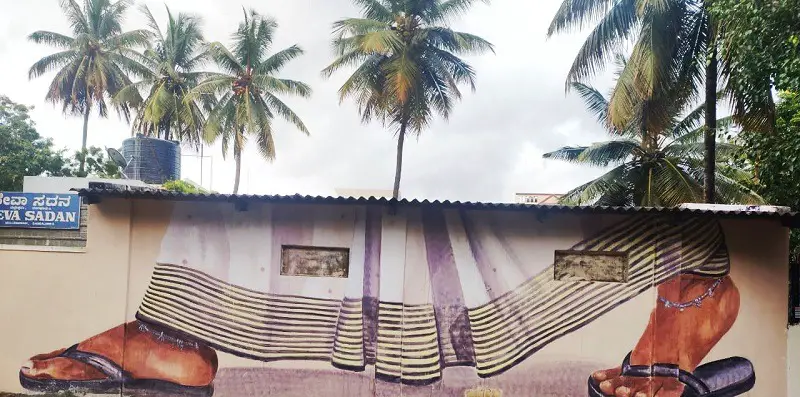 Reason 3 – These provide freedom of expression and creativity
Artists have used these streets and lanes to express themselves. There is freedom of expression and these murals have creativity that bring out the best in them. One of the street art is about a lady who cleans the streets of Malleshwaram. These workers are known as Pourakarmika in Kannada language. The artists have made a mural that has her face, appreciating the effort she puts in keeping our area clean and beautiful. It is truly a spectacle to see these huge pieces of art.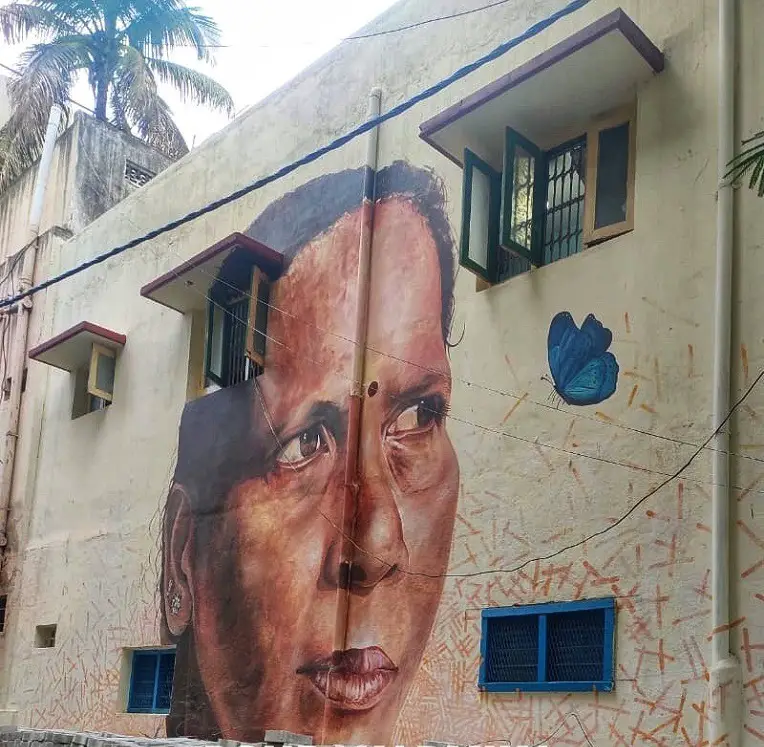 Reason 4 – They act as a public art gallery
The Malleshwaram street art trail acts as an open and public art gallery where the visitors can see and observe the art created by various artists. They all have a message and a story behind them. Being an art lover, I usually visit art galleries to see the works of artists. But seeing these art in an open street is a different and special feeling altogether. And the best part is that you can visit this art gallery for free.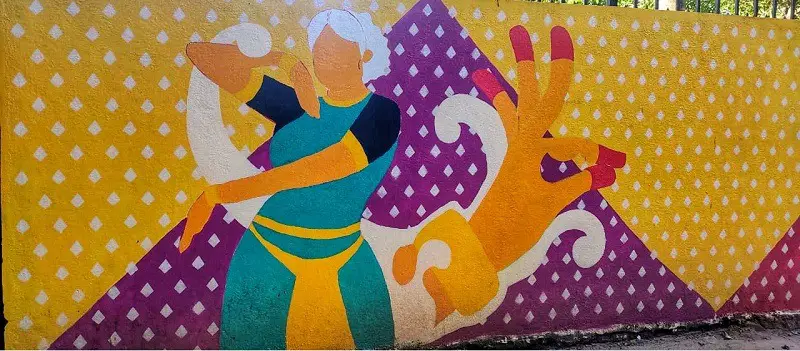 Reason 5 – They act as a playful treasure hunt game where visitors need to find next art
This is the best reason why I love exploring such beautiful trails. The Malleshwaram street art trail exactly acts as a treasure hunt game where you go finding the next art in the map. As these are painted on the walls of conservancy roads, they are not as easily discoverable. So, if you want to have fun, then get a group of your friends and go hunting for these murals.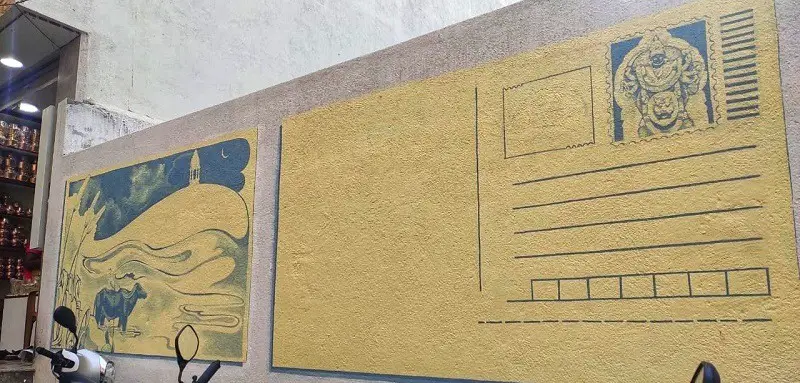 Reason 6 – These art inspire and communicate
These murals are surely an inspiration to the upcoming budding artists. They communicate and provide messages that makes an observer think and introspect. There many things painted as part of these art that no longer exist in Malleshwaram and have disappeared because of the adaptation to the modern world and these art communicate them very well and out loud.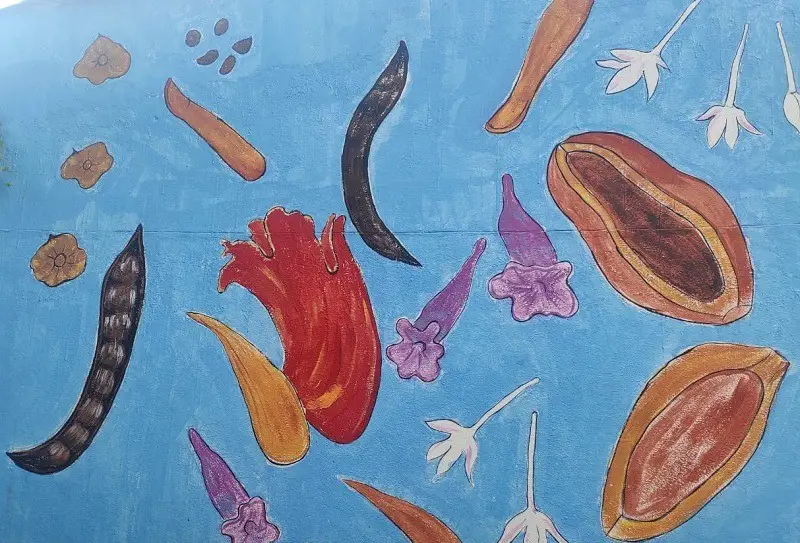 Reason 7 – They bring the community together
These is a sense of belongingness with these art. Each of these bring out the childhood memories we have had during our school days. The flowers we have seen while returning back from school or the sparrows we have seen pecking on the grains, are all some of the most fond memories we have of Malleshwaram. I am sure all of us who were brought up in Malleshwaram share the same emotion and have the same nostalgia.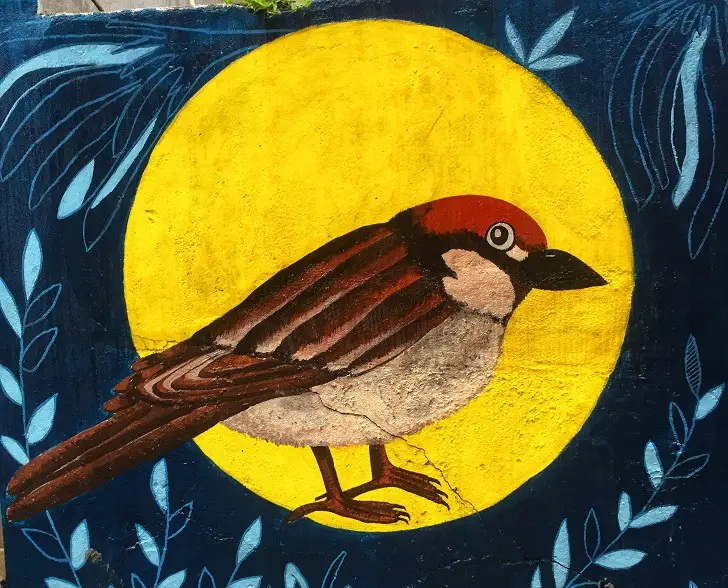 Closing Notes
The Malleshwaram street art trail is one of the most beautiful trails we have in Bengaluru. It connects the good old days of the area and the new modern art methods created by artists. I have done this trail multiple number of times and each time I find something new.
If you enjoyed and liked this article, do comment, tweet or share this post.
Do you have a question or a suggestion? Or want to know more information? Write to me at bengaluruprayana@gmail.com.
PIN for later reference