5 Things to see on Halasuru/Ulsoor Heritage Walk (2024)
Do you enjoy exploring a neighbourhood by walk? Are you one of those who love heritage and history? Then the Halasuru or Ulsoor heritage walk is for you. With narrow lanes and old beautiful temples, the heritage walk passes through some of the amazing and bygone landmarks of Bangalore / Bengaluru.
Bengaluru is one of the most charming cities in India. With so much of history and culture, there are many reasons why Bengaluru must be on your travel list.
This article may contain affiliate links. For full information, please see our affiliate disclaimer here.
About Halasuru or Ulsoor
Located in Central Bengaluru, Halasuru or Ulsoor is one of the oldest neighbourhoods in Bengaluru. The area is next to the Mahatma Gandhi (MG) road and is popular for ancient temples and lanes. According to history, it is believed that Vijayanagara emperors gifted the area/ suburb to Kempe Gowda I, the founder of Bengaluru, in 16th century.
As there was a jackfruit orchid near the Ulsoor lake, the area got its name Halasuru, which means Jackfruit village in Kannada language. The area is dominated by the locals, Kannada speaking people, with Tamil population.
Due to the weather and climate of Ulsoor suburb, the first British military station was setup here in 1807. The area was divided into two parts, black and white areas, depending on whether the British or the locals stayed. All the soldiers and military personnel settled around the area, especially at the white area. And Ulsoor, around Sree Someshwara Swamy temple, was inhabited by the locals and hence the black area.
How to get to Ulsoor?
Part of Central Bengaluru, Ulsoor is located next to MG Road, at the end of Trinity circle. There are many modes of transport in Bangalore.
Metro – Ulsoor has a metro station of its own. The metro station is called Halasuru and it lies on the purple line. The route, timings and fare can be found on Namma Metro website. You can purchase the metro ticket at any metro station.
Buses – There are many frequent buses, operated by Bengaluru Metropolitan Transport Corporation (BMTC), that connect Ulsoor and other areas in Bengaluru.
5 things to see on Halasuru/Ulsoor Heritage walk
Ulsoor heritage walk is a stunning and remarkable walks in Bengaluru. It showcases the way Ulsoor has evolved from a traditional area to the modern area. The lanes are still narrow and the houses remind of the past days. It is a short walk of just around 3 to 4 kilometres, starting from Ulsoor metro station and ending at Ulsoor lake. There are many stories to be heard and many things to be seen during this heritage walk. However, the top 5 things that you will see on Ulsoor heritage walk are documented below.
If you wish to do a guided walk where you get to hear the history and stories, then contact us at info@bengaluruprayana.com or bengaluruprayana@gmail.com.
Old houses in Ulsoor
You can still find really old houses in Ulsoor, which is now a rare sight in Bengaluru because of its modern adaptation and growing population. The ancient houses in the suburb date back to more than one hundred years old. These houses remind the passersby of the classical Tamil architecture. One of the prominent features of Tamil architecture is the sit-out area or the verandah.
As these are someone's homes, be mindful and respect the privacy while taking pictures and observing the homes.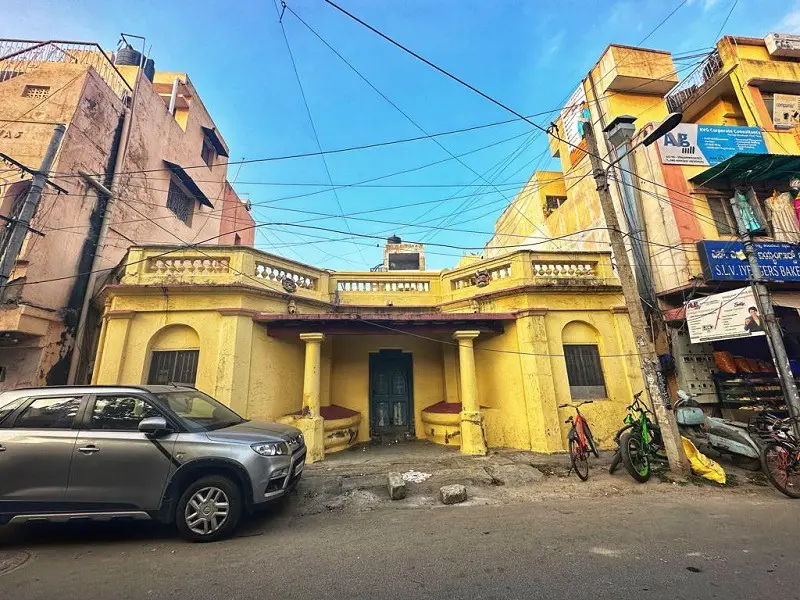 Sree Someshwara Swamy temple
Dating back to the Chola period, Sree Someshwara Swamy temple is a Hindu temple and one of the historical temples in Bengaluru. Established in the 3rd century, Chola dynasty was a Tamil empire of southern part of India. The dynasty was at its peak during the mid-9th century. Dedicated to Lord Shiva, Sree Someshwara Swamy temple was then modified with additions of architectural structures by Vijayanagara empire.
Temple timings: 6:30 AM to 12:30 PM and 5:30 PM to 8:30 PM everyday.
Entrance fee: No entrance fee.
Photographs are allowed only on the exteriors of the temple.
The best time to visit the temple is in the morning as there is less crowd.
As this is a religious place, wear appropriate clothes.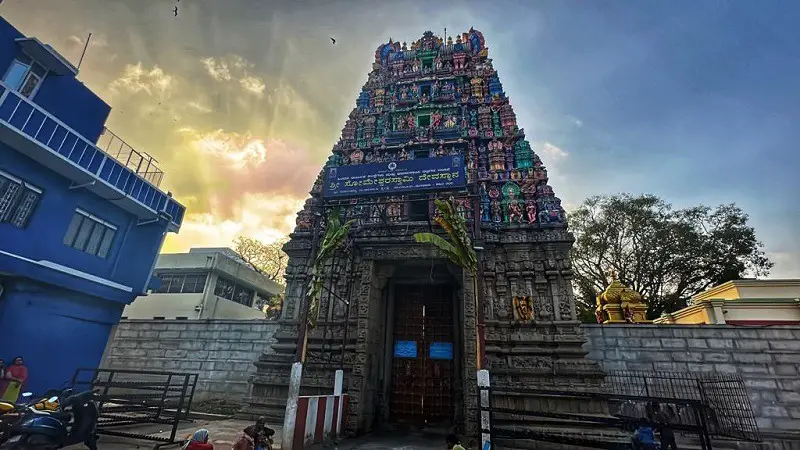 Trinity church
Built in 1851, Holy Trinity Church is considered as the largest military church in southern part of India. The church, one of the churches on MG Road, is built in the English Renaissance style and was built for British Regiment. Initially called as Holy Trinity Garrison Pastorate, the church can accommodate 700 people currently and some of the structures present in the church were commissioned and carved in England.
Church timings: 6:30 AM to 6 PM everyday. On public holidays, the church open at 9 AM.
Entrance fee: No entrance fee.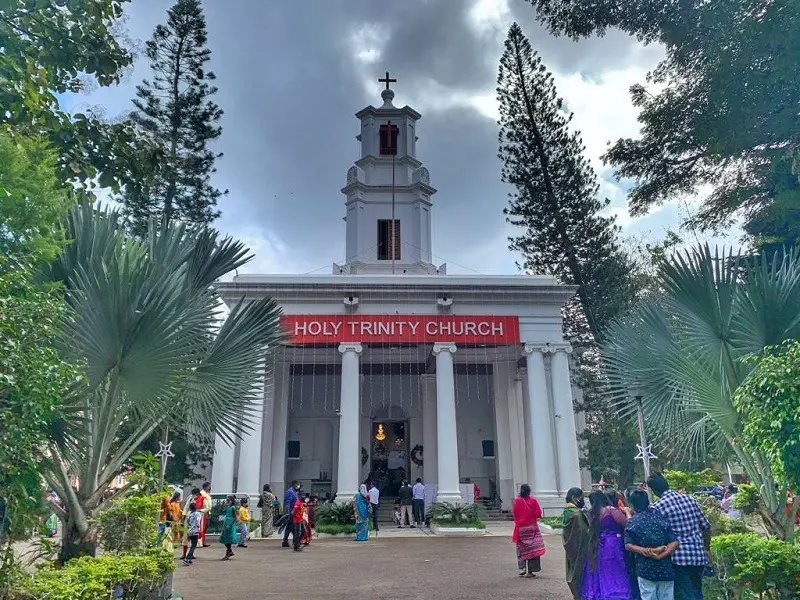 Ulsoor lake
One of the most popular lakes to visit in Bengaluru is Ulsoor lake. Spreading across 123 acres, Ulsoor lake is a man-made lake with a few islands. The lake was created by Sir Lewin Bentham Bowring, a British Indian civil servant who served as the Chief Commissioner of Mysore during British India.
Lake timings: 6 AM to 8 PM everyday.
Entrance fee: No entrance fee.
Kempegowda tower
Marking the boundaries and four corners of Bengaluru city, Kempe Gowda I built four watch towers, which are called as the Kempegowda towers. Even though Bengaluru has grown and expanded way beyond these boundaries, these towers are currently located at:
Mekhri circle.
Lalbagh botanical garden.
Gavipuram.
Ulsoor.
Located in Madras Sappers campus, the Kempegowda tower in Ulsoor is along the banks of Ulsoor lake. It is situated on a hill and is visible from Ulsoor lake. Unfortunately, you cannot go closer to the Kempegowda tower in Ulsoor as the campus is beyond limits for commoners.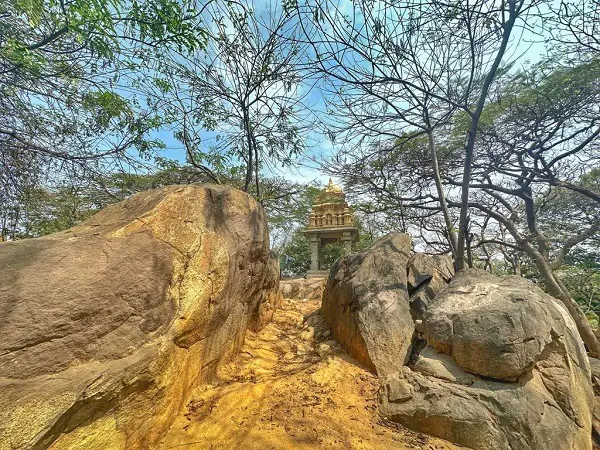 Closing Notes
I love walking through Ulsoor and discovering unexplored and hidden gems. There are many things that I saw for the first time and Ulsoor heritage walk was a way to explore the neighbourhood of Ulsoor. It is also a way to uncover the tales.
If you enjoyed and liked this article, do comment, tweet or share this post.
Do you have a question or a suggestion? Or want to know more information? Write to me at bengaluruprayana@gmail.com.
PIN for later reference