Van Gogh 360 Bangalore Immersion: An Art Lover's Dream (2024)
Did you know that Bangalore is hosting Van Gogh's art exhibition? It is one of the coolest things to do in Bangalore lately. The exhibition is a tribute to the famous and a well known Dutch artist Van Gogh. In this post, you will find my review and information about Van Gogh 360 Bangalore Immersion.
From the time, I heard about Van Gogh 360 Bangalore exhibition, I wanted to visit it. I have always admired Van Gogh's paintings and have felt a deep connection with his life and his paintings. From feeling extreme sadness about his life to thinking highly of his works, I am a fan of Van Gogh.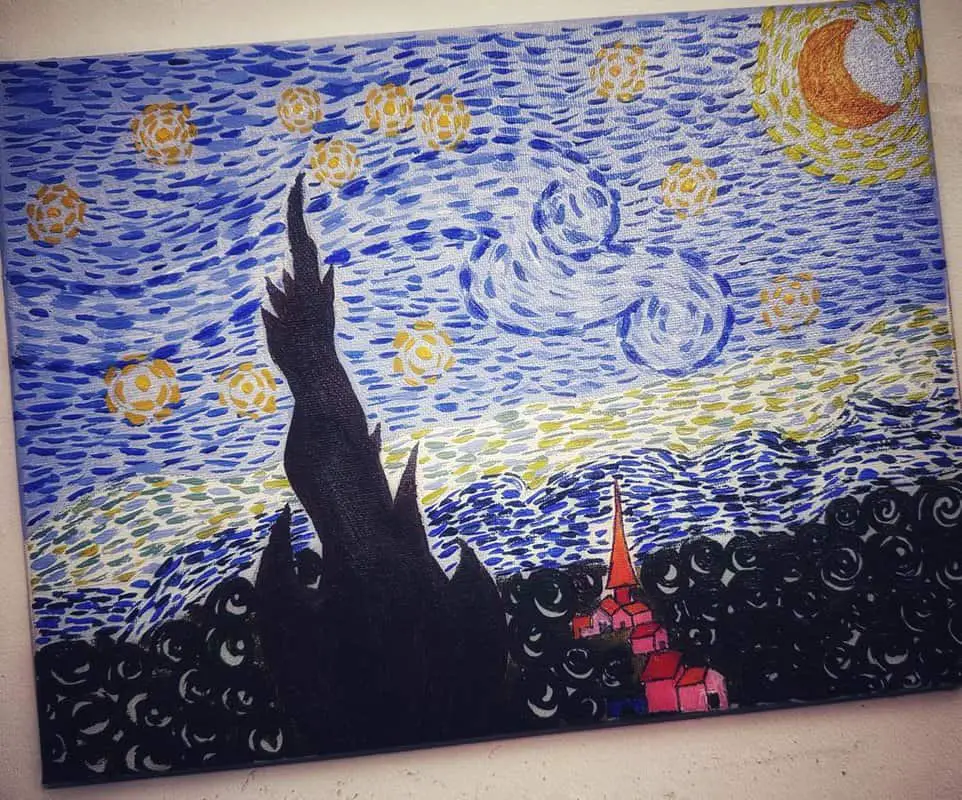 This article may contain affiliate links. For full information, please see our affiliate disclaimer here.
About Vincent Van Gogh
Born in a small town in the Netherlands in 1853, Vincent Van Gogh was a Dutch painter and artist. Known for his use of vibrant colours, Van Gogh's paintings and art conveyed deep emotions. Unfortunately, he battled depression and mental health issues throughout his life and during these struggles is when he produced such remarkable amount of work and paintings.
Van Gogh has created many amazing and renowned paintings. But some of the most popular ones are the "Starry Nights", "Sunflowers", and "Café Terrace at Night".
Starry Nights painting is something that we have all seen or heard of. The painting is particularly famous for its emotional depth and the chaos. It is often represented with Van Gogh's struggle with mental illness and his longing for connection with the world. You can see this painting in Museum of Modern Art (MoMA) in New York City.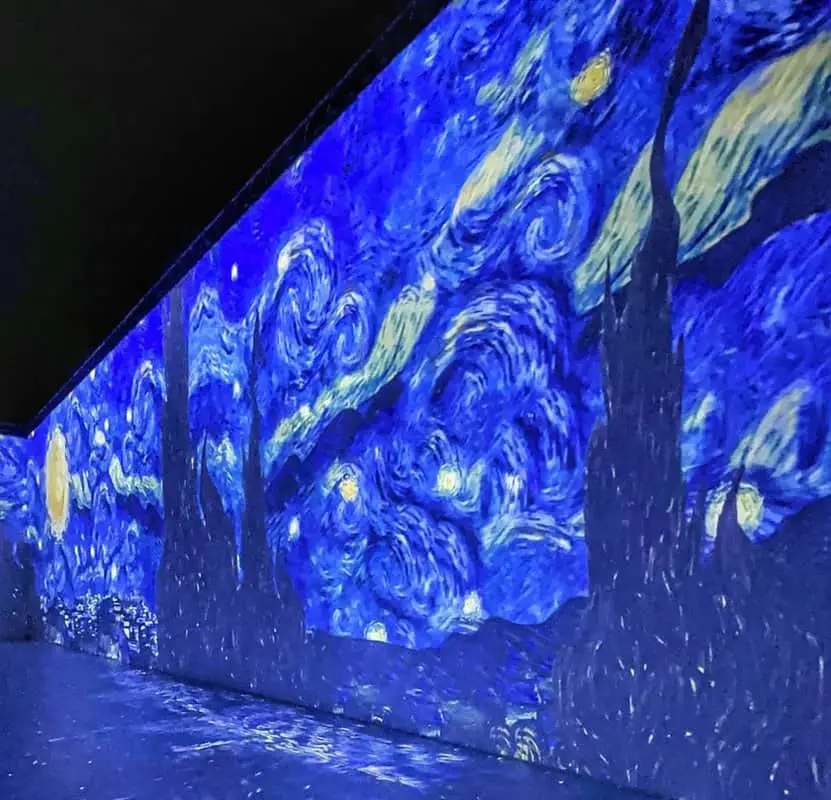 Celebrating the use of bold and bright colours, Sunflowers is a series of paintings that were painted as a symbol of gratitude and friendship. One of the paintings features a bouquet of yellow sunflowers arranged in a vase on a flat surface. You can see several Sunflowers paintings at Van Gogh Museum, one of the museums in Amsterdam. Other Sunflowers paintings are spread across in different places such as The National Gallery in London, The Art Institute of Chicago, Philadelphia Museum of Art, among others.
Created in 1888, Café Terrace at Night is a night scene that depicts an outdoor café located in Arles. Capturing an ambience of a lively and welcoming café on a summer night, the painting is often seen as a representation of Van Gogh's appreciation for everyday life. You can see Café Terrace at Night painting at Kroller-Muller Museum in Otterlo (Netherlands).
About Van Gogh 360 Bangalore Immersion
Providing a multi-sensory 360 degrees experience of Van Gogh's paintings and artworks with high-resolution projections, the Van Gogh 360 Immersion is one of its kinds. bringing Van Gogh's paintings to life, the exhibition in Bangalore provides an immersive experience dedicated to Van Gogh's life and his works. The projections of his paintings are complemented with soothing and therapeutic music.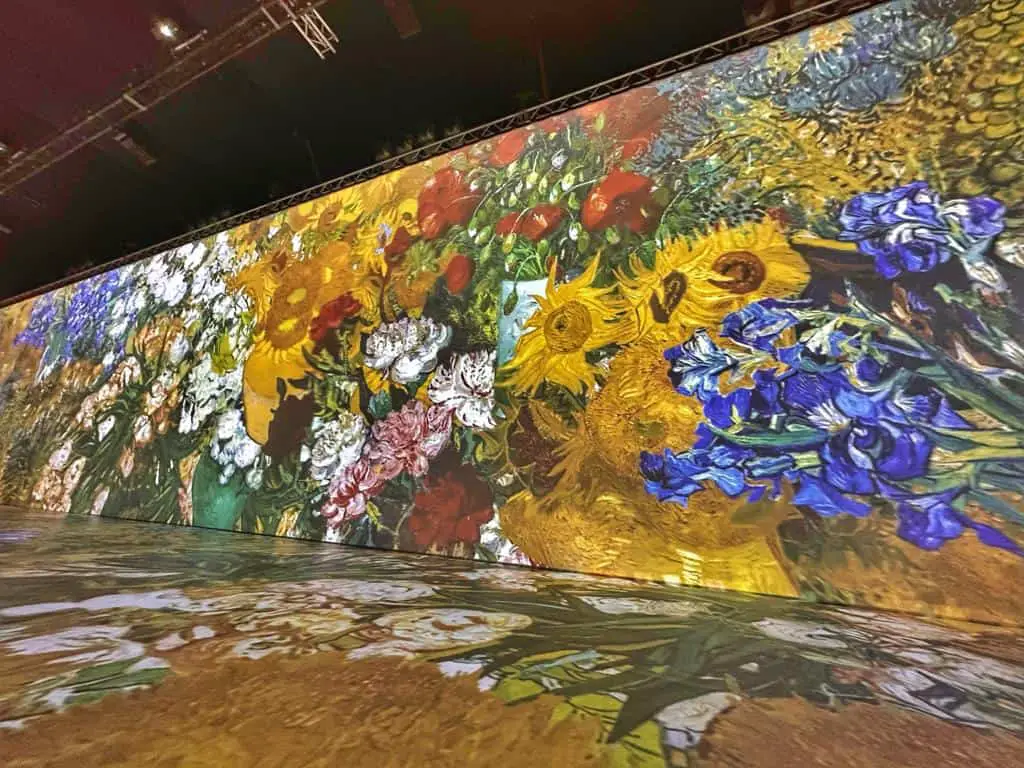 Highlights of the Exhibition
The exhibits are divided into two parts:
The first part is where you read about Van Gogh's life and his art.
And the second part is the 360 immersion experience. Situated in a rectangular shaped hall, the experience is a projection of Van Gogh's paintings using lights and music. It is mind-blowing and stunning. What a lovely experience the artists and the organisers have created! I fell in love with this 360 degrees immersion. During the projection of Starry Nights, I had goosebumps.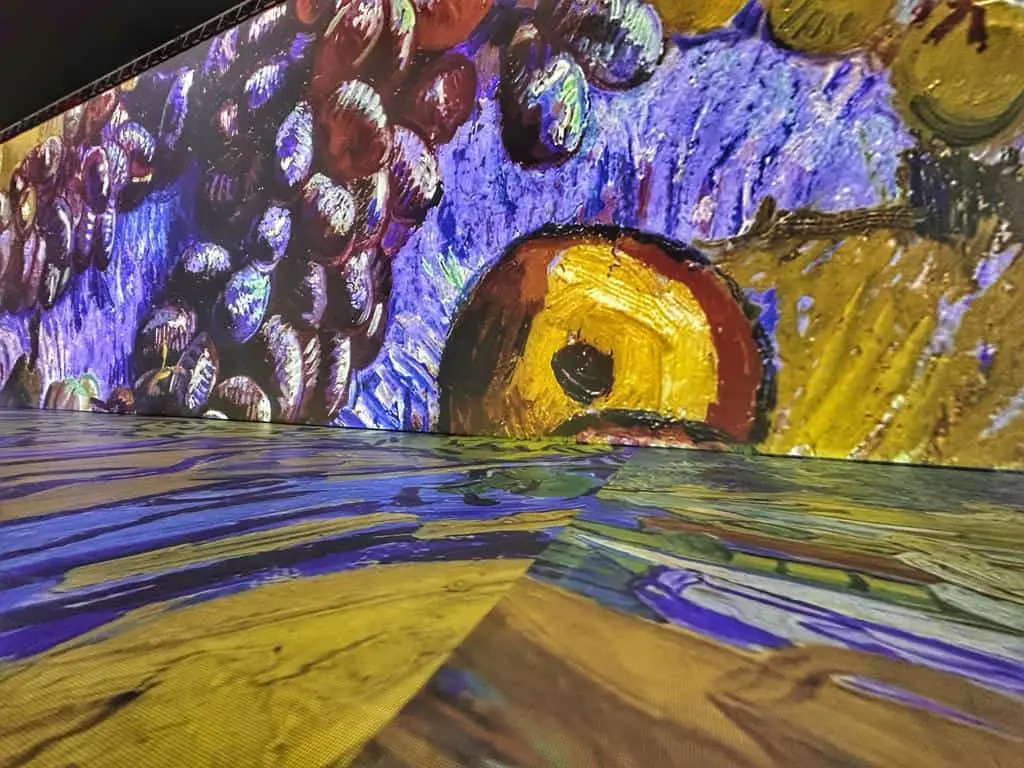 Visitor Information for Van Gogh 360 Bangalore
Location and Hours
Van Gogh 360 Bangalore is located inside the Bhartiya Mall of Bengaluru at Thanisandra. The exhibition is on the upper ground floor of the shopping mall.
Started on 8 August 2023, the exhibition is till 24 September 2023. It is open between 9 AM and 9 PM, with last entry being at 9 PM. But when I visited the exhibition, the show started only at 4 PM and was closed prior to that. Check the timings on BookMyShow website before visiting the place.
Tickets and Pricing
You need to purchase tickets prior to visiting the exhibition and the show. The tickets can be purchased on BookMyShow website and there are three types of tickets available.
Basic Individual Entry.
Family / Group of 4 Entry.
Group of 10 Entry.
Note that the prices are different based on whether you are visiting on a weekday or a weekend. It also varies based on the type of the ticket. The starting price of the ticket (basic individual) is Rupees 1099 on weekdays and Rupees 1499 on weekends.
Photography Guidelines
Pictures are allowed inside the exhibition. You can use your phones or cameras to take photos and videos. However, flash photography and tripods are not allowed. For better pictures, ensure to sit close to one of the corners in the 360 immersion room. That way, you can take videos and pictures without any people.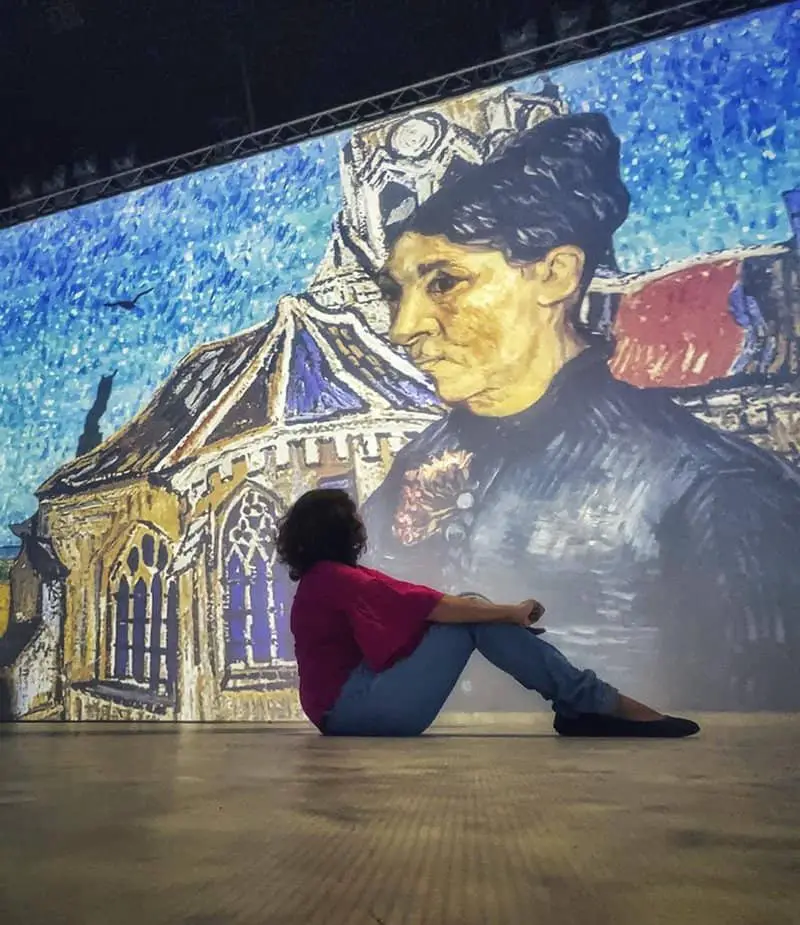 Planning Ahead
To have a smooth experience, plan ahead and you can do the below:
Before visiting the exhibition, read and understand a bit about Van Gogh and his paintings.
The show is usually for 30 minutes and it is absolutely amazing. Ensure to be at least 15 minutes prior to your show start time.
Respect the rules of the exhibition.
Maintain silence and admire the work. Do not disturb other visitors.
Spend time and cherish the projections, you will love them.
How to get to Bhartiya Mall of Bengaluru?
By Road
Bhartiya Mall of Bengaluru is around 17 kilometres from Bangalore city and the journey by road takes up to 30 minutes when there is no traffic. The route is towards Manyata Tech Park.
By Public Transport
The closest bus stop to Bhartiya Mall of Bengaluru is Thirumenahalli Cross at K. N. S College. This is just about a minute walk from the shopping mall. There are many buses, operated by Bangalore Metropolitan Transport Corporation (BMTC), that travel between Shivajinagar bus stop and Thirumenahalli Cross.
Other than the buses, there are many other transport modes in Bangalore such as auto rickshaw, Uber or Ola. You can take any of these to travel between the places. In an auto rickshaw, the cost is around Rupees 350 from Bangalore city to the shopping mall.
Closing Notes
As I mentioned, I am a huge fan of Van Gogh's paintings and I do get inspired by him and his life a lot. With so much of chaos and depression, he was able to create such amazing work. And its truly commendable. This exhibition is an art lover's delight as the experience was mesmerising.
Note: If you are or know someone who is battling mental illness, please seek medical help. Treat it like any other illness and do not wait or neglect it.
How can you support me?
You know how much I love coffee, so you can buy me a coffee – Buy me Coffee!
Or you can purchase from my Travel Resources without any extra charge to you:
– For flight bookings – Use Skyscanner
– For stay and accommodations – Use Stay22
– For a comprehensive travel insurance – Use SafetyWing
– For tours and activity bookings – Use Viator or GetYourGuide
---
If you enjoyed and liked this article, do comment, tweet or share this post.
Do you have a question or a suggestion? Or want to know more information? Write to me at bengaluruprayana@gmail.com.
Subscribe to my newsletter
PIN for later reference | Van Gogh 360 Bangalore