Vidhana Soudha: The Architectural Gem of Bangalore (2024)
Who hasn't heard about Bengaluru's pride Vidhana Soudha? One of the notable and iconic buildings printed on stamps, currencies, or newspapers is the picture of Vidhana Soudha. In this post, you will find the information on this amazingly beautiful structure and building – Vidhana Soudha.
This article may contain affiliate links. For full information, please see our affiliate disclaimer here.
About Vidhana Soudha
Situated in the heart of Bangalore near Cubbon Park, Vidhana Soudha is the seat of the Karnataka State Legislature and the administrative center of the state government of Karnataka. Right opposite to the High Court of Karnataka, Vidhana Soudha is an iconic government building located in Bangalore. Its central location makes it easily accessible from various parts of the city.
Playing a crucial role in the state's democratic processes, Vidhana Soudha is where the politicians and the lawmakers gather to discuss and determine the legislation for the residents of Karnataka. Vidhana Soudha means Legislative Building in Kannada language. Standing tall, the building is a reminder where in spite of the city's rapid growth, the heritage and culture still continue to exist and thrive. The building is Bangalore's everlasting legacy.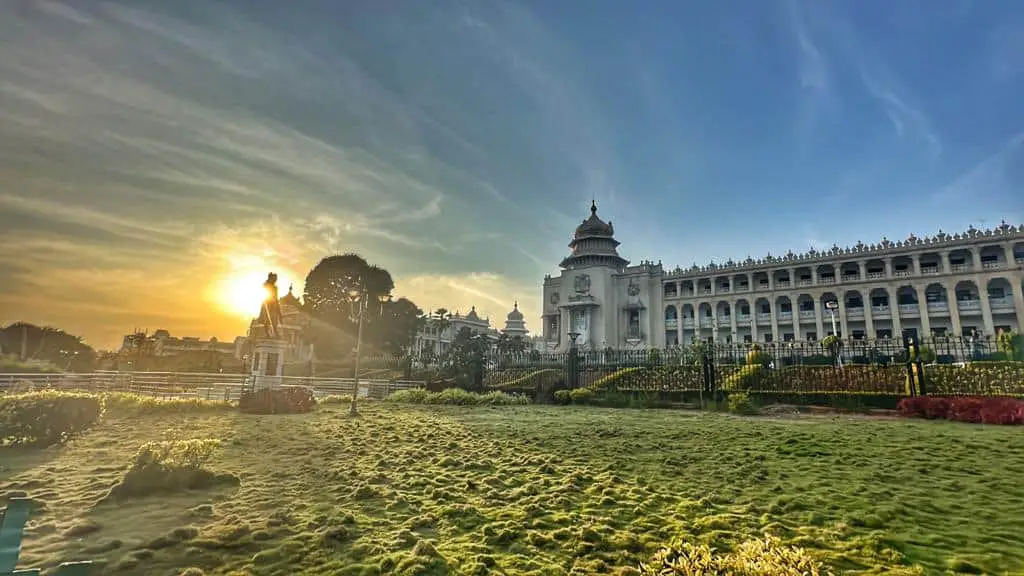 History of Vidhana Soudha
Karnataka (then Mysore State) had two houses of legislature before India's Independence from the British. Once we got the independence, the capital was moved to Bangalore and the two houses of legislature were also moved into the High Court of Karnataka building (officially known as Attara Kacheri).
Due to the space constraint, the need for new and spacious quarters arose. The foundation stone was laid on 13 July 1951 by the then Prime Minister of India, Pandit Jawaharlal Nehru. Around 5,000 labourers and 1,500 stonecutters were employed and the construction of the building completed in 1956.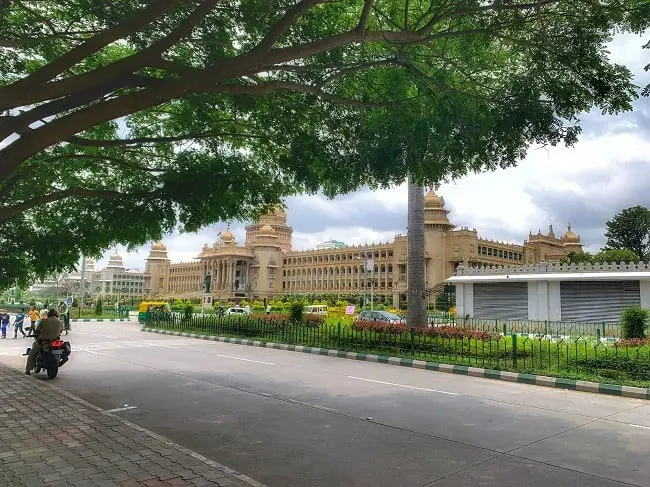 Architecture and Design
Constructed in a blend of Indo-Saracenic and Dravidian styles, Vidhana Soudha designed by the renowned architect Kengal Hanumanthaiah, former Chief Minister of Karnataka (then Mysore State). Kengal Hanumanthaiah was assisted by two other architects B.R Manickam and K. Chengalaraya Reddy. The building also has elements from various empires such as Chalukya, Hoysala and Vijayanagara empires.
Known for its grandeur architecture, the building covers an area of more than 700,000 square feet. One of the main highlights of the building is the inscription in Kannada language 'Sarkarada kelasa devara kelasa' translating to 'Government Work is God's Work'. This was personally supervised and added by Kengal Hanumanthaiah.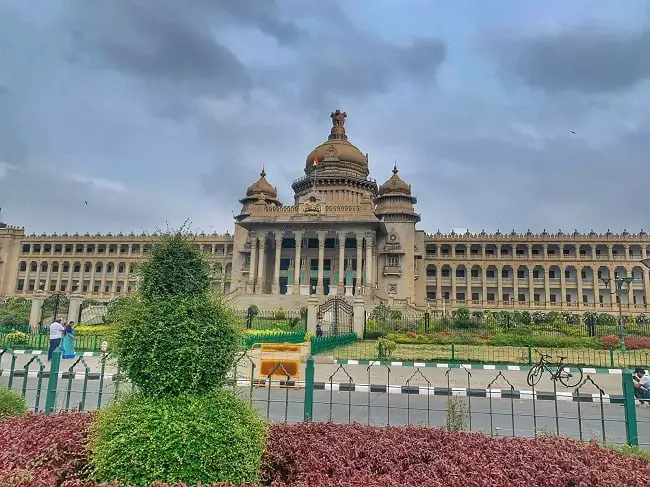 The other notable element is the central dome which is around 18 metres in diametre and is crowded like the State Emblem of India, statue is a three dimensional emblem showing four lions. With three main floors and a top floor, Vidhana Soudha is the largest legislature building in India.
A replica of Vidhana Soudha named Visaka Soudha was inaugurated in 2005 by the then Chief Minister of Karnataka, S. M Krishna. Located next to Vidhana Soudha, Vikasa Soudha is also built in granite stones and is in Neo-Dravidian architectural style.
Exploring Interiors and Exteriors of Vidhana Soudha
You can visit Vidhana Soudha and can explore the impressive exterior of the building, admire its architectural details, and take photographs. There are also artistic and historical elements within the building's corridors that you can have a look at. You can appreciate the building's significance and cultural importance.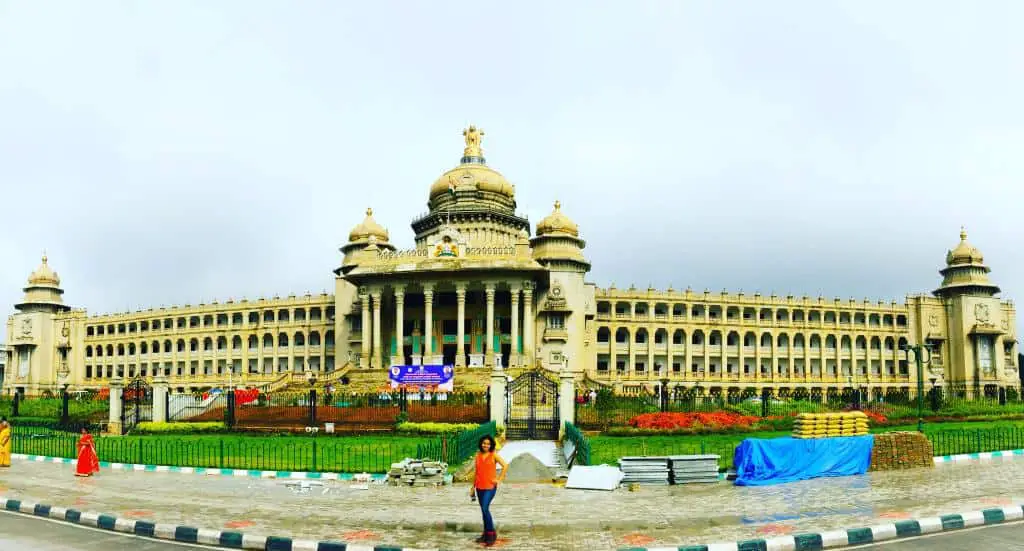 As this is the seat of legislation, general public is not allowed inside the building. You cannot enter inside and access the legislative chambers unless you are a minister, a government employee working inside the building or has some official work with all permissions.
When you visit Vidhana Soudha, ensure to visit Government Museum and Visvesvaraya Industrial Technological Museum. And if you love heritage walks, then Postal Heritage Trail passing through Vidhana Soudha is a must.
The best time to visit Vidhana Soudha is either during sunrise or during sunset as you get amazing reflections of sunrays on the building, making it look even more beautiful and spectacular. It is also the best time to take pictures.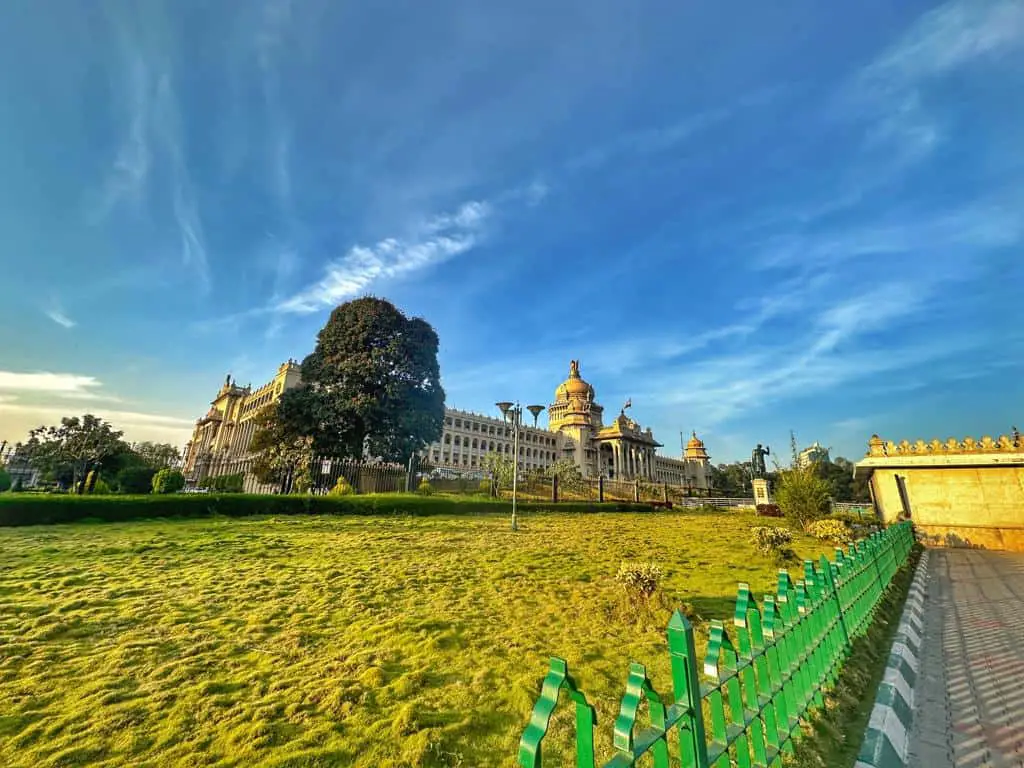 Also, Vidhana Soudha is illuminated with lighting on Sundays and Public Holidays between 6 PM and 8:30 PM, and it looks stunning.
Frequently Asked Questions (FAQ) about Vidhana Soudha
Q: Where is Vidhana Soudha located?
The building is located on Dr. Ambedkar Veedhi near Cubbon Park. It is situated opposite to the High Court of Karnataka.
Q: Is Vidhana Soudha open to the public?
You can see the structure and the building from the outside. But visitors are not allowed inside the building unless you have some government work or permits.
Q: Are there guided tours available at Vidhana Soudha?
No, there are no guided tours. General public cannot go inside the building. Prior permissions must be taken before visiting. Also, if you have permission, ensure to carry your valid government ID for verification purposes.
Q: What are the working hours of Vidhana Soudha?
The working hours at Vidhana Soudha are Monday to Friday between 9 AM and 5 PM.
Q: Is there an entry fee to visit Vidhana Soudha?
There is no entrance fee to enter the building. But entry is restricted only to people who have permits.
Q: Can I attend legislative sessions at Vidhana Soudha?
No, general public is not allowed to attend legislative sessions.
Q: Is there parking available near Vidhana Soudha?
You can park your vehicle at Cubbon Park and then walk to Vidhana Soudha.
Q: Which is the closest metro station near Vidhana Soudha?
Dr. BR Ambedkar Station Vidhana Soudha is the closest metro station.
Closing Notes
Vidhana Soudha is truly an architectural marvel and Bengaluru's pride. It is one of the must visit places in Bangalore. Being one of the prominent landmarks in the city, the building still stands as an example of the future vision the leaders of that era had.
How can you support me?
You know how much I love coffee, so you can buy me a coffee – Buy me Coffee!
Or you can purchase from my Travel Resources without any extra charge to you:
– For flight bookings – Use Skyscanner
– For stay and accommodations – Use Stay22
– For a comprehensive travel insurance – Use SafetyWing
– For tours and activity bookings – Use Viator or GetYourGuide
---
If you enjoyed and liked this article, do comment, tweet or share this post.
Do you have a question or a suggestion? Or want to know more information? Write to me at bengaluruprayana@gmail.com.
Subscribe to my newsletter
PIN for later reference | Vidhana Soudha: The Architectural Gem of Bangalore