Volunteer in Bangalore: Spend a Day at Bear Rescue Centre in Bannerghatta (2024)
Are you a wildlife lover? And do you want to volunteer in Bangalore and do something for wildlife? Then you are at the right place! From the time I have moved back to Bangalore, I have been in search of places where I can volunteer in Bangalore. Having volunteered in the past, I have found volunteering the most rewarding thing to do. In this post, you will find the information on how you can volunteer at the bear rescue centre in Bannerghatta.
This article may contain affiliate links. For full information, please see our affiliate disclaimer here.
About Wildlife SOS
Established in 1995 by Karthick Satyanarayan and Geeta Seshamani, Wildlife SOS is a non-profit organisation (NGO) in India that focuses on rescuing and rehabilitating wildlife. Currently one of the largest wildlife organisations in South East Asia, the Wildlife SOS runs many active projects related to wildlife conservation, awareness workshops, human-wildlife conflicts, and anti-poaching operations. These projects have rescued many wildlife animals that were in distress, including the sloth bears, elephants, Asiatic black bears, leopards, and snakes.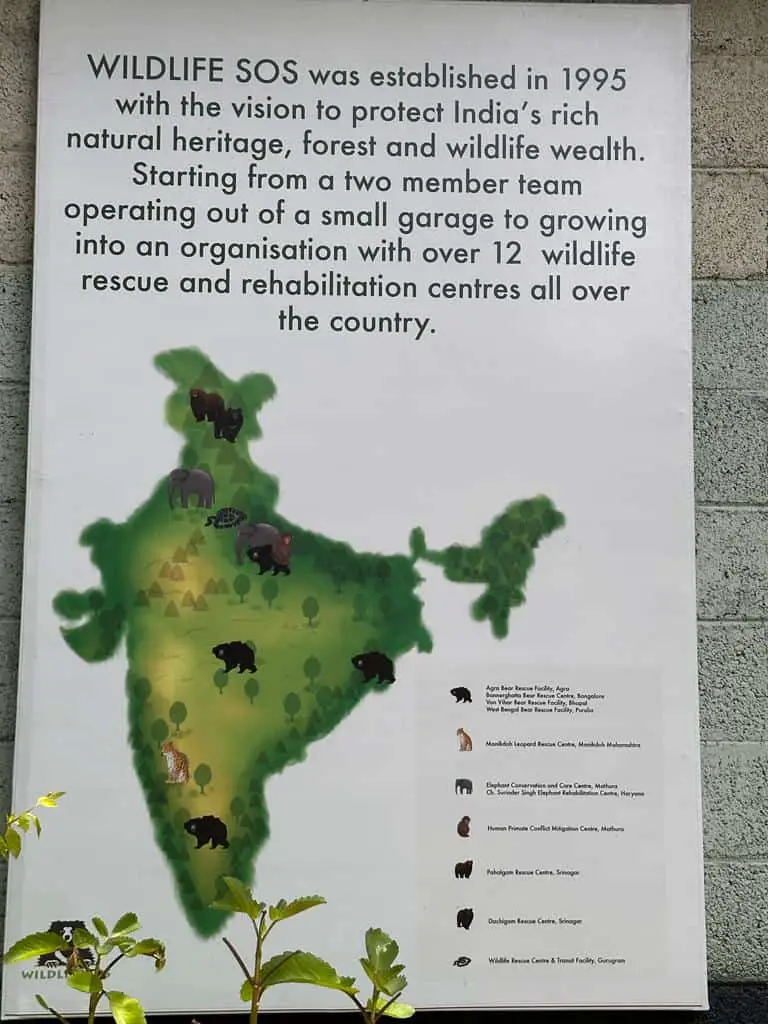 About Bear Rescue Centre in Bannerghatta
Located as part of Bannerghatta National / Biological Park in Bangalore, the Bear Rescue Centre has 60 bears now that were recued from the Kalandar community, bear markets, circuses among others. These bears are provided with medical care, balanced and nutritious diet and are allowed to roam around in a free area in Bannerghatta National Park. This centre is set up in collaboration with Karnataka Forest Department, Zoo Authority of Karnataka and Bannerghatta Biological Park.
Wildlife SOS currently have four bear rescue and rehabilitation centres across India:
Agra Bear Rescue Facility in Agra (largest in India).
Bannerghatta Bear Rescue Facility in Bangalore (second largest in India).
Van Vihar Bear Rescue Facility in Bhopal.
Purulia Bear Rescue Centre in West Bengal.
These rescue and rehabilitation centres provide and act as retiring dens for the sloth bears where they roam around, socialise with other bears and live peacefully without the trauma, fear and pain.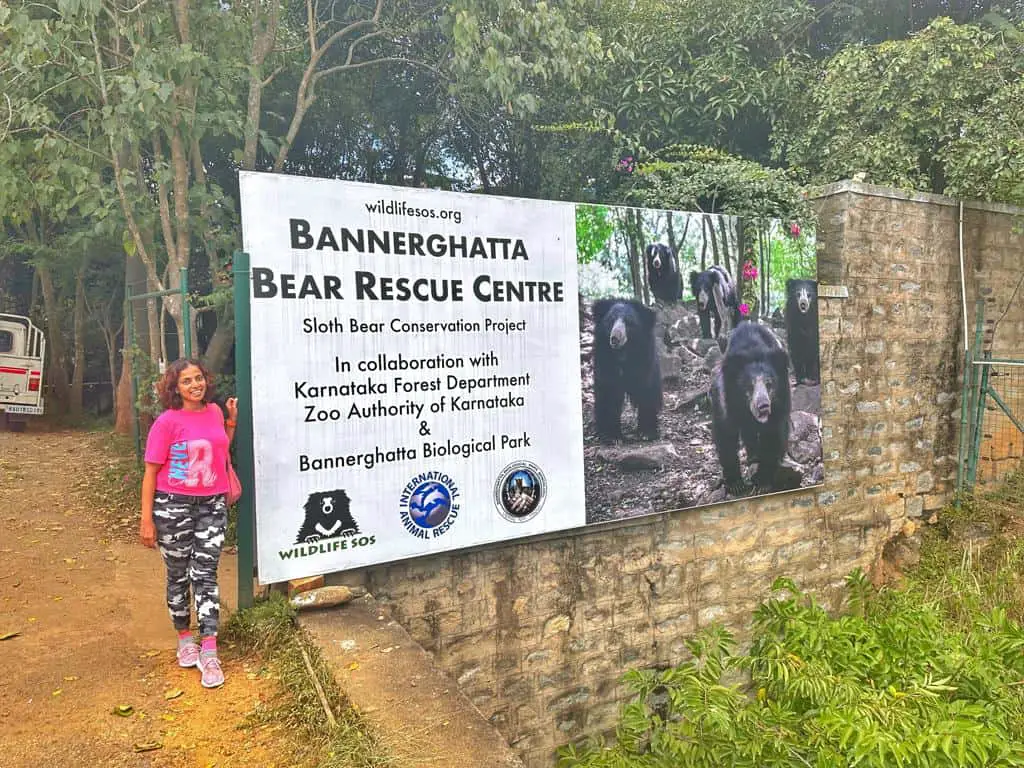 About Sloth Bear
Native to Indian subcontinent, sloth bear is also known as the Indian bear. Feeding mainly on fruits, insects, ants and termites, the sloth bears are considered as endangered species. They are medium sized bears and have long and thick muzzles. With either a Y- or V-shaped marks on the chest, these bears are black in colour. They live in a wide range of habitat, including grasslands, dry tropical forests, scrublands. It is believed that there are less than 12,000 to 15,000 sloth bears in the wild.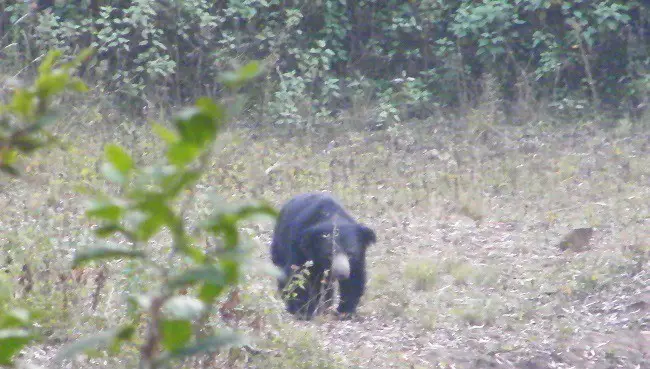 What led to Bear Rescue Centre?
When I was a child, Bangalore's streets were once filled with dancing sloth bears. These sloth bears, each accompanied by a nomadic person, would walk street to street to perform. They would dance and earn money from the onlookers. The person accompanying the bear would also offer us with a black thread (good luck charms) in exchange for money. It was believed that the thread was blessed by the bear so we can get health and wealth benefits.
Unfortunately, these bears were kept in a very sad state. They were not fed well (I am told that they were just given biscuits sometimes) as the community which kept the bears were also very poor and nomadic. And the rope that were tied to the bear's muzzle would hurt them and because of the pain, the bear would stand up and move that resembled dancing. This was cruel and these bears had to be saved.
If you find any wild animal in distress or in bad condition, then call PETA at +919820122602 or Wildlife SOS's Helpline numbers at +919871963535 / +919917109666 / +919825011117 / +917006692300 / +919419778280 immediately.
Even though Indian Government had banned the dancing bear or dancing monkey practices in 1972 under The Wildlife (Protection) Act, 1972, there were no one to rescue or impose these restrictions. Many wildlife NGOs were trying their best to save and protect wildlife. But special licences were permitted to Kalandar community by the government to continue with their dancing bear practices.
In 2005, there was an agreement that was signed between Karnataka Forest Department and Zoo Authority of Karnataka and hence Bannerghatta Bear Rescue and Rehabilitation Centre was born.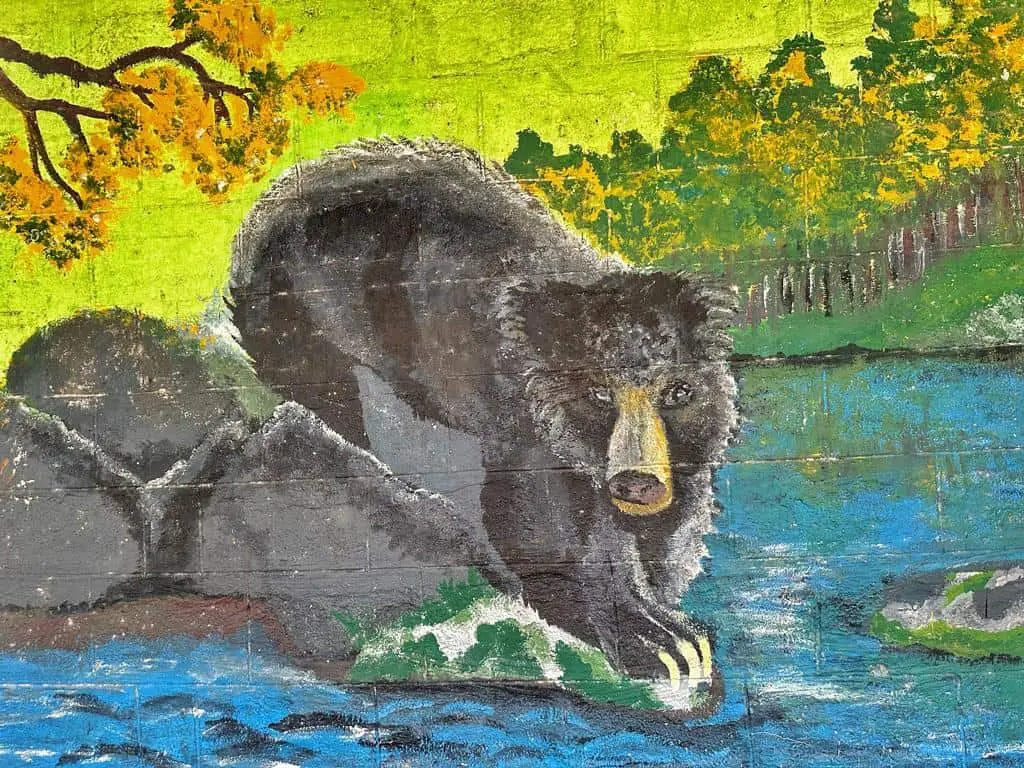 Kalandar Community and Bear Market
Economically deprived tribe, the Kalandar community were the ones that practiced the tradition of dancing bears in India. This community came from the line of tribesmen who once entertained Mughal emperors with trained animal acts. The only livelihood they knew was to move from one place to the other with the dancing bears.
Kalandar community would buy the bear cubs from the poachers at bear markets. These poachers would kidnap bear cubs as young as 3 months from their mothers (by killing the mothers) to sell them. Unfortunately, the mortality of the bear cubs when they are young is very low and only one or two cubs would survive till the bear market. The poachers would get around Rupees 50,000 per cub from Kalandar community.
Then these cubs were trained using physical tortures and threats. At first, the cub's canine teeth were knocked off using stones, nails were chipped off, and a hot metal was inserted through their muzzle so to put a rope. All these were done without anesthesia. And the trainers would pull the inserted rope, which caused a lot of pain to the bears due to which they would stand and obey.
Rescue of Sloth Bears
As I mentioned earlier, the sloth bears were kept in a very sad state and many had dental, Post-traumatic stress disorder (PTSD), and health issues. Wildlife SOS implemented and executed a project to save these sloth bears. They were successful in finding various methods, such as alternate income sources and educating Kalandar community, to save these bears. I was informed that in the beginning, the rescue centres across India had about 650+ abused bears. Today the numbers have decreased as there are no dancing sloth bears left to be rescued. The last of the dancing bears were freed and rescued in 2009.
Programmes run by Wildlife SOS for Kalandar Community
Even though I do not think that these people who practised animal cruelty had to be given second chance for the torture they put these bears through, I was informed that this community was also suffering along with the bears due to poverty and lack of livelihood methods.
Wildlife SOS run programmes for Kalandar Rehabilitation Programme where they educate and spread awareness among the Kalandar community. They are provided with education and required skills so they can get into other alternate livelihood. We were informed that Kalandar community have also been keen to move forward and are willing to abandon these long cultural practices that involve animal torture and cruelty.
Currently, Kalandar community have other occupations such as running small shops and businesses. We were also told that the community now have people who are educated doctors and engineers. Our driver (very soft spoken) who picked us up from the parking gate was also from Kalandar community. It is really commendable to see how Wildlife SOS have turned the animal-torturers into better people by giving them a means of rightful earning and education.
Another story of where poachers were turned into wildlife conservationists can be seen at Manas National Park in Assam.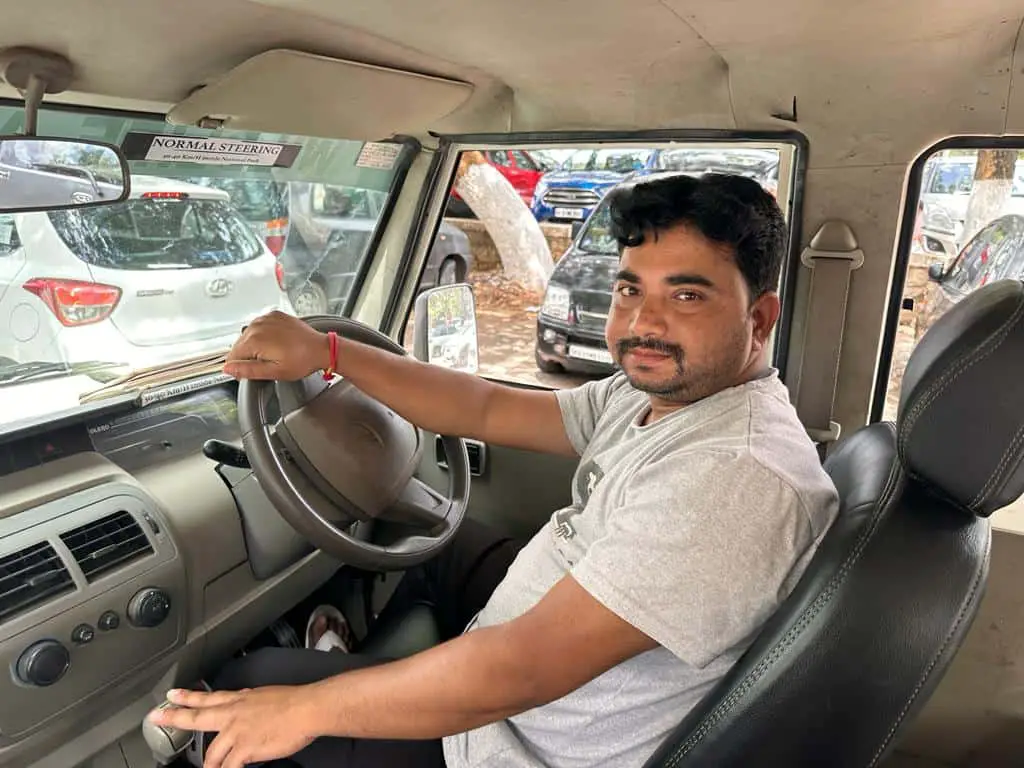 Volunteer in Bangalore: Spend a Day at Bear Rescue Centre in Bannerghatta
You can spend a day or few days at this bear rescue centre by volunteering and participating in the day to day activities. Here at the rescue centre, you will also learn about Wildlife SOS, the projects that they are involved in and the history of the bear rescue. The staff and the care takers are absolutely amazing and they patiently and enthusiastically answer to any questions that you may have regarding the wildlife and the rescue operations.
No pictures are allowed at the rescue centre. There are in-house photographers who will capture your pictures throughout the day. Also note that you will not be allowed to take pictures of the sloth bears.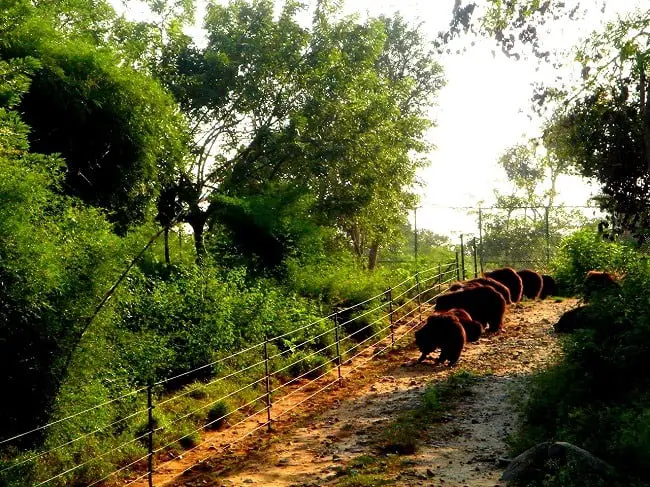 Bear free ranging area
The rescued sloth bears are free to roam around in the free ranging area. Spread across 80 acres, this free ranging area is made up of lush green trees and bushes, and the rocks from the park.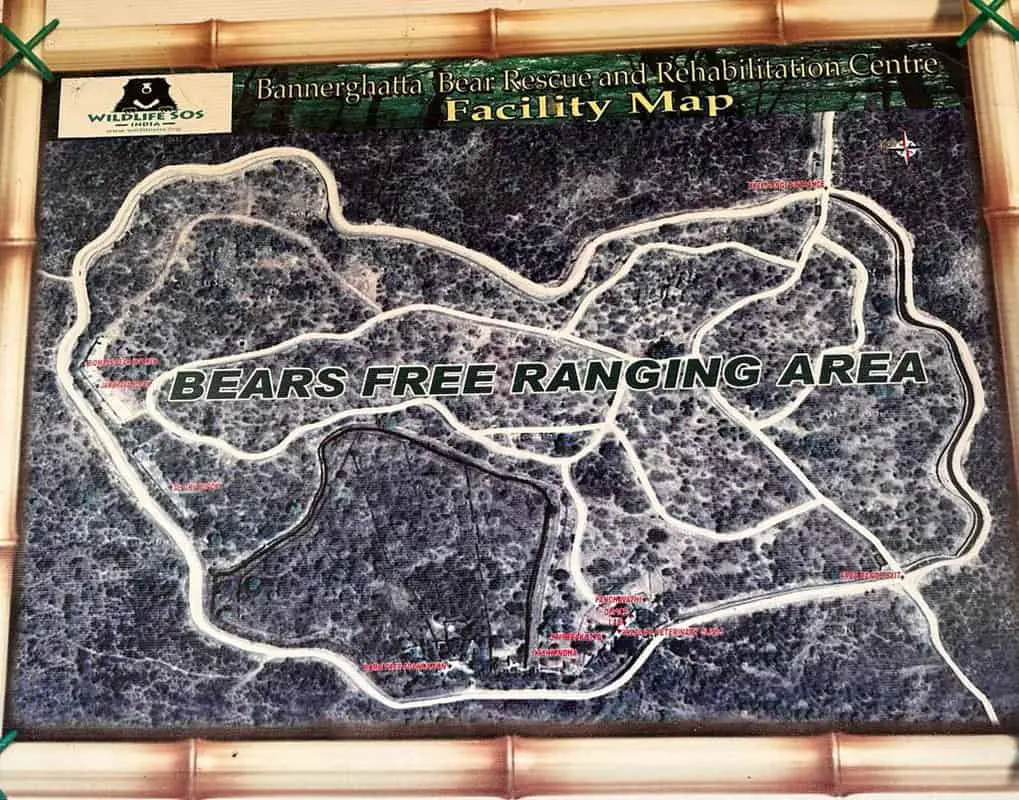 Bear hospital
The rescue centre has a team of veterinary doctors monitoring these bears 24/7. The facility also has a fully-equipped clinic where these bears are treated if required. Each bear has a name, care taker, a dedicated book with all its detailed information on health, medicines and food intake.
Bear café
The Bear Café is where the balanced, delicious and nutritious food is prepared for the bears. This food is given thrice during the day and they consist of a mixture of honey, porridge, fruits, vitamins, proteins and calcium. The bears are also given insects paste (insects bred in the facility) to get them as close to their natural habitat.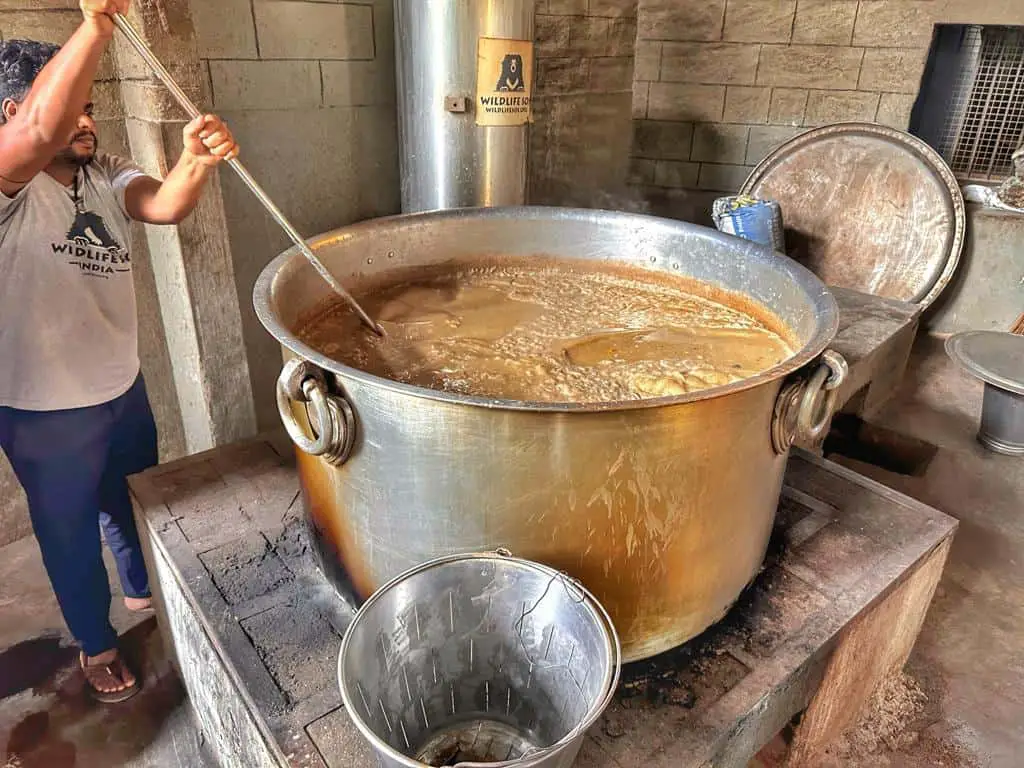 Activities involved
Wildlife is respected here at the rescue centre.
Sloth bears, even though rescued, are still wild animals and you cannot touch them or go near them. You can definitely see and talk to them. But you cannot have close encounters with them. This is for yours and the bear's safety.
There are many activities that you will be involved in during the volunteering program. Some of the activities that you are required to do (but not limited) are:
Food preparation for the bears. At Bear Café, there will be staff already preparing the food and you are required to assist in that food preparation.
Cleaning of the bear enclosures and facilities.
Assisting in bear routine observations.
Making enrichments for the bears. We were involved in making hammocks for the bears and it was so much fun and learning.
Gardening and Nursery maintenance.
And many more.
How can you volunteer at Bear Rescue Centre?
You do not need prior volunteer experience to volunteer at Bear Rescue Centre in Bannerghatta. Note you will enjoy the day only if you are interested in wildlife and want to give back to the community in some form.
There are many ways you can volunteer at the Bear Rescue Centre. It can be for a day or for multiple days. They also have a volunteer home near Bannerghatta where you can stay for a charge. We were told that it was Rupees 750 per day per person (make sure to check for up-to-date prices with Wildlife SOS) and this includes all the meals as well.
If you cannot be there at the rescue centre in person, Wildlife SOS also offers virtual volunteering such as data entry and spreading awareness.
For visiting or volunteering at the Bannerghatta Bear Rescue Centre, you can send an email to one of the following email addresses – volunteer@wildlifesos.org or visit@wildlifesos.org. You can also visit Wildlife SOS website to fill in a volunteering application. Once they reply to your email, you are required to send a valid government identification to Wildlife SOS team.
Closing Notes
I was blown away by all the efforts and things the staff and care takers are doing. And I can't thank Wildlife SOS enough for giving these beautiful bears a second chance to live for the rest of their lives peacefully. I do hope to be part of more such programs.
In a nutshell, spending a day at the bear rescue centre and listening to the stories of how Wildlife SOS made an impact was absolutely amazing. If you want to volunteer in Bangalore, then there is no better place than the bear rescue centre at Bannerghatta.
How can you support me?
You know how much I love coffee, so you can buy me a coffee – Buy me Coffee!
Or you can purchase from my Travel Resources without any extra charge to you:
– For flight bookings – Use Skyscanner
– For stay and accommodations – Use Stay22
– For a comprehensive travel insurance – Use SafetyWing
– For tours and activity bookings – Use Viator or GetYourGuide
---
If you enjoyed and liked this article, do comment, tweet or share this post.
Do you have a question or a suggestion? Or want to know more information? Write to me at bengaluruprayana@gmail.com.
Subscribe to my newsletter
PIN for later reference | Volunteer in Bangalore by Spending a Day at Bear Rescue Centre