Circle Maramma Temple: A Place of Faith and Devotion (2024)
Holding great cultural significance in Malleshwaram, one of the oldest areas of Bangalore, Circle Maramma Temple is a place where devotees come to connect with faith, tradition and community. It is the temple that is adored by the locals. In this post, you will find information on visiting this spectacular temple located in Malleshwaram.
This article may contain affiliate links. For full information, please see our affiliate disclaimer here.
About Circle Maramma Temple
Believed to be built in the 1970s, the Circle Maramma Temple is one of the beautiful and hidden gems in Malleshwaram. Located next to the wood museum and Sankey tank, the temple is an ancient temple dedicated to Goddess Maramma or Mariamma.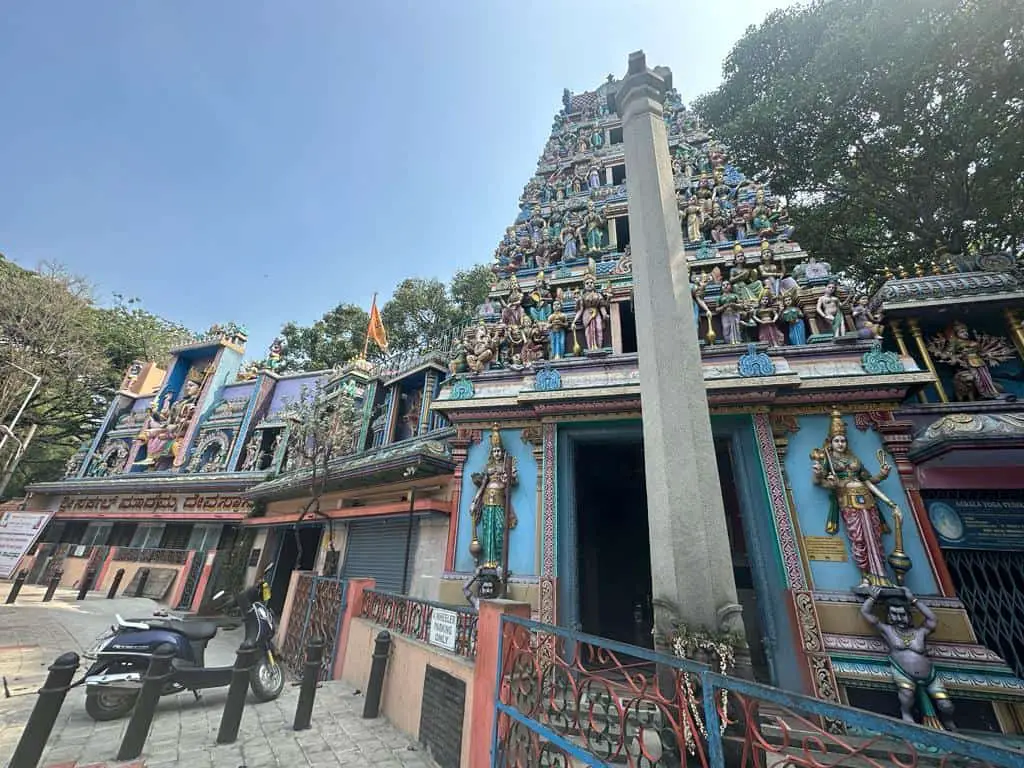 Importance of Goddess Maramma
Known by many names Amma, Mariamma, and Durga, Goddess Maramma is the goddess of rain and diseases, especially small pox, chicken pox and cholera. Often depicted as riding a tiger, Goddess Maramma is considered as the guardian deity in many of the South Indian villages.
History of Circle Maramma Temple
Unfortunately, there is no written or documented history about Circle Maramma Temple. But what I have heard and read is that during the late 1800s, Malleshwaram was hit by plague. And it is during this time where the locals sought divine help from the local guardian deities like Maramma (or Mariamma) to protect the people and the area. This resulted in worshiping the goddess eventually building a temple for her.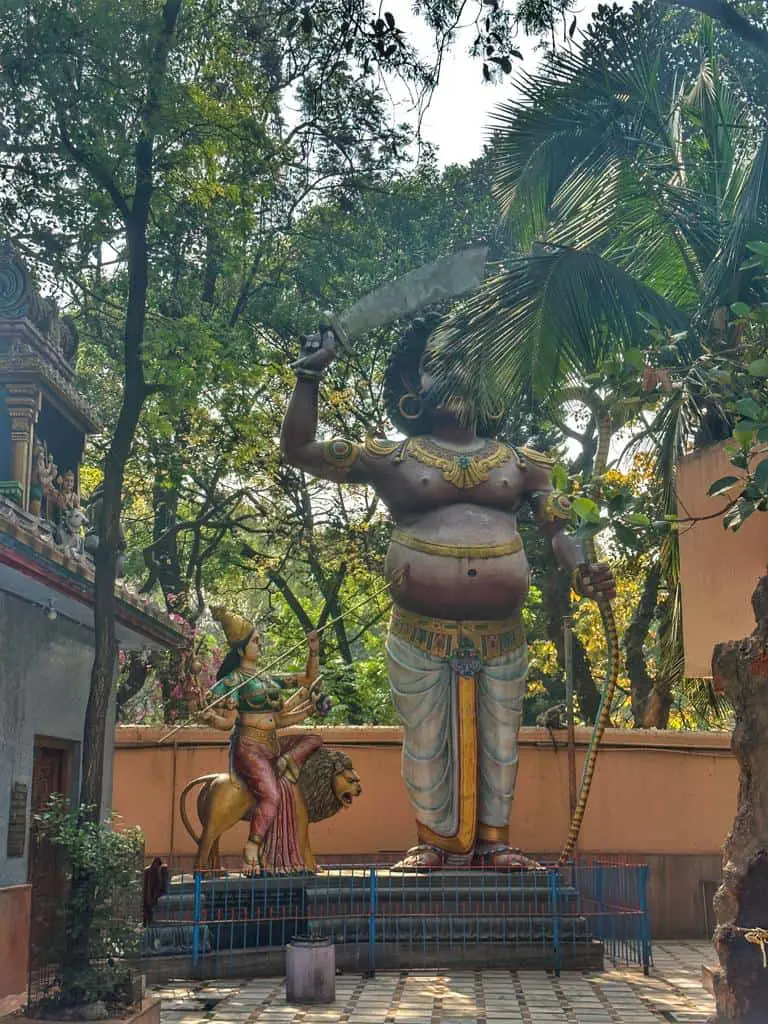 Visitor Information
The temple is open every day in the morning between 6 AM and 12 PM, and in the evening between 4 PM and 8 PM.
It is extremely crowded on Tuesdays and Fridays.
During Navrathri, the temple is decorated with lights and flowers. It is also open till late night. Note that the temple is very crowded during these days. Navaratri is an annual nine-night festival dedicated to the goddess.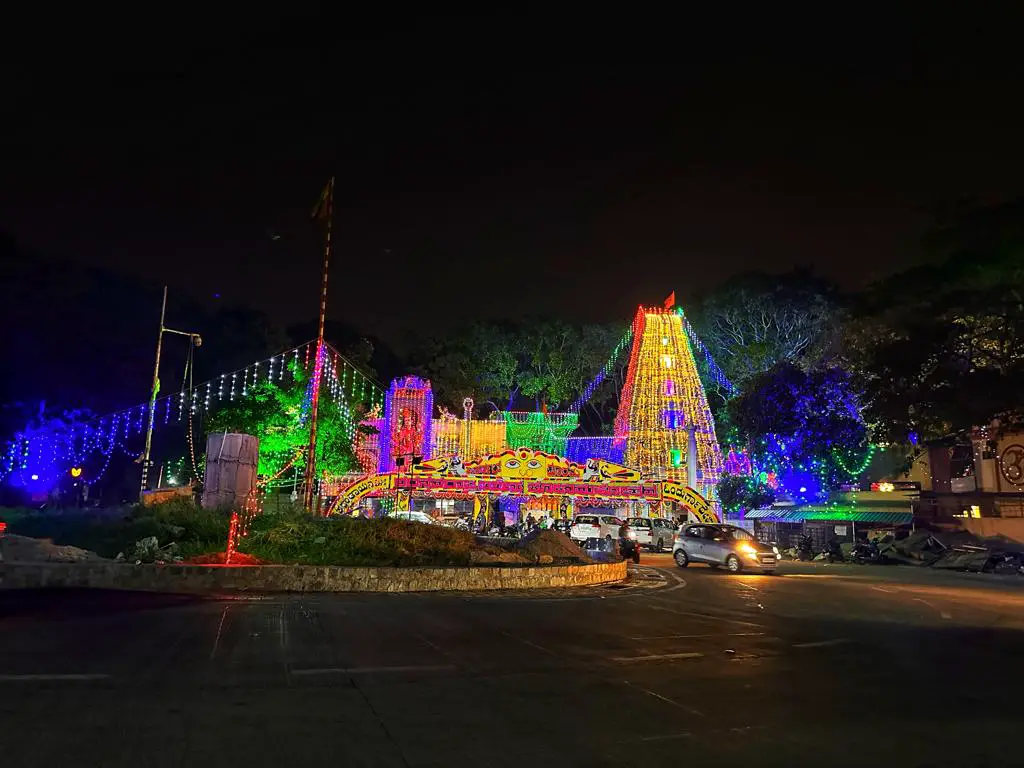 As it is a religious place, ensure to dress appropriately.
Leave your footwear outside before entering the temple.
The temple complex has a lot of monkeys.
Attracting a diverse range of devotees, including both locals and tourists, many people visit the temple to offer prayers, seek blessings, and make offerings to the goddess.
This temple is famous among the new car buyers. The priests here perform special pooja for the new cars called Ayudha Pooja. I got the blessings for my new car too from Maramma, deity of Circle Maramma Temple.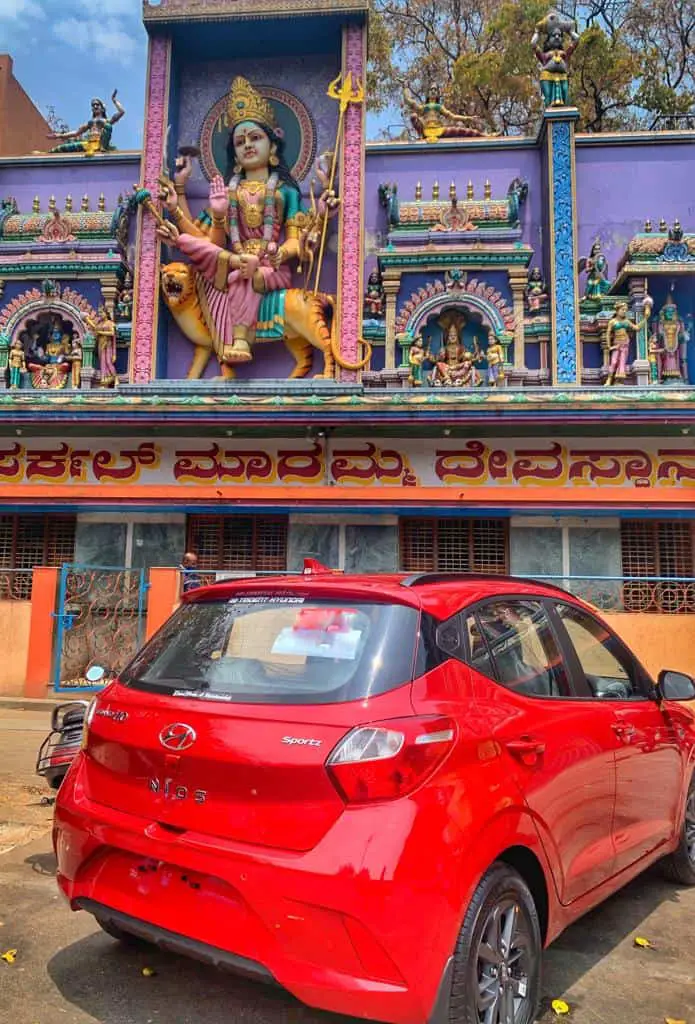 Notable features of Circle Maramma Temple
One of the main and notable features in the temple is the huge sculpture of the Goddess herself. It is absolutely stunning and she looks extremely pretty and calm.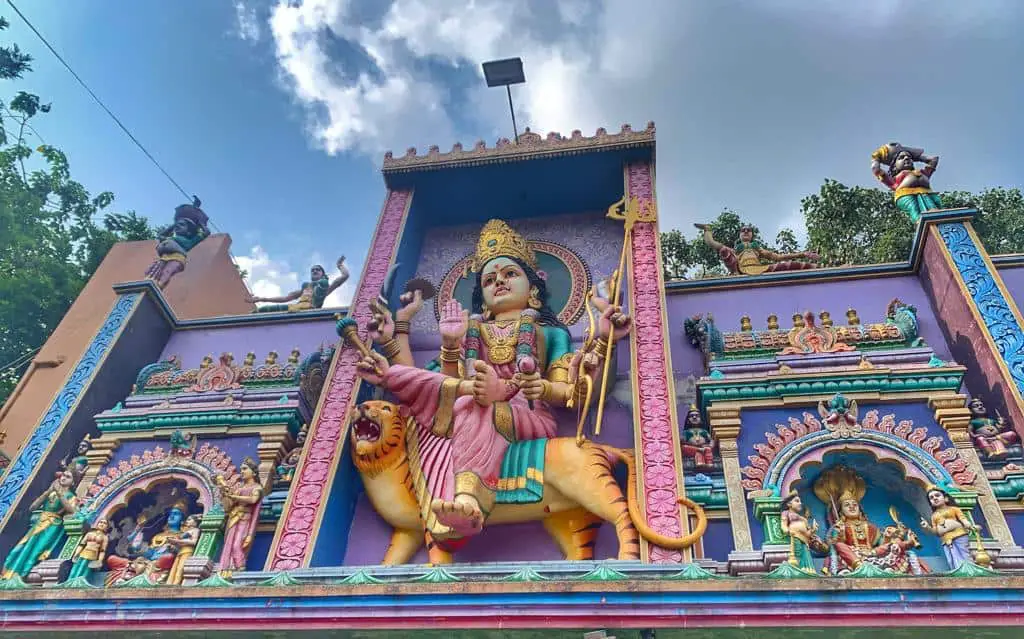 The temple's architecture reflects the traditional South Indian style, with ornate carvings and sculptures adorning the structure. It has many sculptures that narrate the story and power of Goddess Maramma, including the slaying of the daemon Mahishasura.
How to Get to Circle Maramma Temple?
By Road
The temple is around 7 kilometres from Bangalore General Post Office (GPO) and by road, the journey takes only 10 minutes. There are heaps of parking spaces around the junction.
By Public Transport
The best way to reach Circle Maramma Temple is by bus. There is a big bus interchange at Malleshwaram 18th cross where most buses connect between Majestic and Malleshwaram. The temple is just a short walk away from the temple.
If you take the metro, then the closest metro station is the Mantri Square metro station. It is around 2 kilometres from the temple.
Also Read – How to Get Around in Bangalore?
Frequently Asked Questions (FAQ) about Circle Maramma Temple
Q: Where is Circle Maramma Temple located?
The Circle Maramma Temple is located in Malleshwaram area of Bangalore.
Q: What is the metro station close to Circle Maramma Temple?
The closest metro station to Circle Maramma Temple is Mantri Square metro station. It is around 2 kilometres from the temple.
Q: What are the temple timings for Circle Maramma Temple?
The temple is open in the morning from 6 AM to 12 PM, and in the evening from 4 PM to 8 PM.
Q: What are the other things that I can do in Malleshwaram?
There are plenty of things you can do in Malleshwaram. From getting the authentic delicious food to seeing a visual gallery of street art, Malleshwaram has it all. Here is a complete guide to exploring one of the oldest areas of Bangalore, Malleshwaram.
Closing Notes
The Circle Maramma Temple is not just a religious place, it is also the representation of Bangalore's rich cultural and religious heritage. It serves as a reminder of the enduring beliefs and traditions of the locals. Have you visited this gem yet? Let me know by writing to me on BengaluruPrayana@gmail.com.
How can you support me?
You know how much I love coffee, so you can buy me a coffee – Buy me Coffee!
Or you can purchase from my Travel Resources without any extra charge to you:
– For flight bookings – Use Skyscanner
– For stay and accommodations – Use Stay22
– For a comprehensive travel insurance – Use SafetyWing
– For tours and activity bookings – Use Viator or GetYourGuide
---
If you enjoyed and liked this article, do comment, tweet or share this post.
Do you have a question or a suggestion? Or want to know more information? Write to me at bengaluruprayana@gmail.com.
Subscribe to my newsletter
PIN for later reference | Circle Maramma Temple