Try the Halli Mane in Malleshwaram – Best Place to find Obattu Oota in Bangalore (2024)
Do you crave for Obattu (Holige) Oota? You don't have to wait for festivals or occasions to have Obattu Oota now. You can have the meal anytime at many restaurants in Bangalore. And Halli Mane in Malleshwaram is one of them where you get authentic South Indian meals, including the Obattu Oota.
If you like South Indian food, also Read | Taaza Thindi Bengaluru
Obattu is a flatbread which is sweet and is usually prepared during the festivals or any important celebrations such as wedding. It is one of the top five street food to try in Bengaluru.
We, Bangaloreans, love the Oota (meal) that is served with Obattu as these remind us of the happy moments or celebrations. Like everyone in Bangalore, I too used to crave for the Obattu Oota and that is when I started researching for authentic restaurants that serve these meals.
This article may contain affiliate links. For full information, please see our affiliate disclaimer here.
About Halli Mane
Known for its authentic South Indian vegetarian food and traditional décor, Halli Mane is a restaurant in the northern part of Bangalore. Halli Mane translates to Village Home in Kannada language. It is a famous landmark in Malleshwaram because of its authenticity and the affordable food options.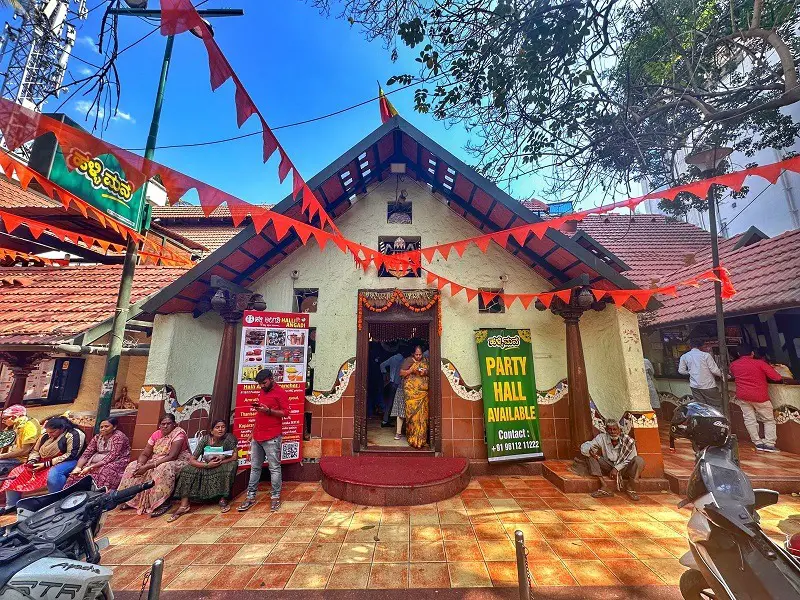 Visitor Information
Location
In Bangalore, Halli Mane has only one branch and is situated on Sampige road in Malleshwaram. They also have a branch on Kolar Highway.
Metro station – The closest metro station is Mantri Mall metro station. The distance between the metro station and Halli Mane is around 500 metres and is easily accessible by walk.
Driving – Halli Mane is around 5 kilometres from Bangalore city centre and by road, the journey takes up to 20 minutes. There are street parking available in front of the restaurant.
Timings
The restaurant at Malleshwaram is open every day (Monday to Sunday) from 7 AM to 10 PM.
Menu and food
Halli Mane has plenty of food options, including ala carte. They have South and North Indian dishes. They also have certain food options such as Akki and Ragi rottis that are famous in the villages of Karnataka. The food is genuine and are locally prepared, fresh right in front of you. You can also try their filter coffee.
The meals are served on banana leaves giving that authentic and festive feeling of how Bangaloreans love to enjoy their meals. Their quality of food is quite good when compared to other restaurants in Malleshwaram.
Hygiene
Honestly speaking, I felt the place especially where the meals were served was not very hygienic and could have been better. I understand that this may be because of the large crowd that they get during every lunch or dinner time. Even though the cleaners were trying their best, they could not cope up with the demand and influx of people coming in.
I have been to Halli Mane twice and I have also had their Bisibele bath from the ala carte menu and that fast food (darshini) area is more clean and better. The cleaner is different here and it may be because this area is more of a fast food area where people eat quickly and leave so there are less chances of people dirtying the tables.
Other Information
The place is always crowded, especially during festivals. Be prepared for really long queues during festivals.
There are free street parking near the restaurant. However, the street is very narrow for cars.
The prices for meals vary between adult and kids.
There are ala carte options as well in the restaurant and you don't have to take meals during your visit.
For meals, there is no sharing options.
Are you looking for a lovely 5 star hotel to stay in Bangalore? Then read Taj Westend in Bangalore.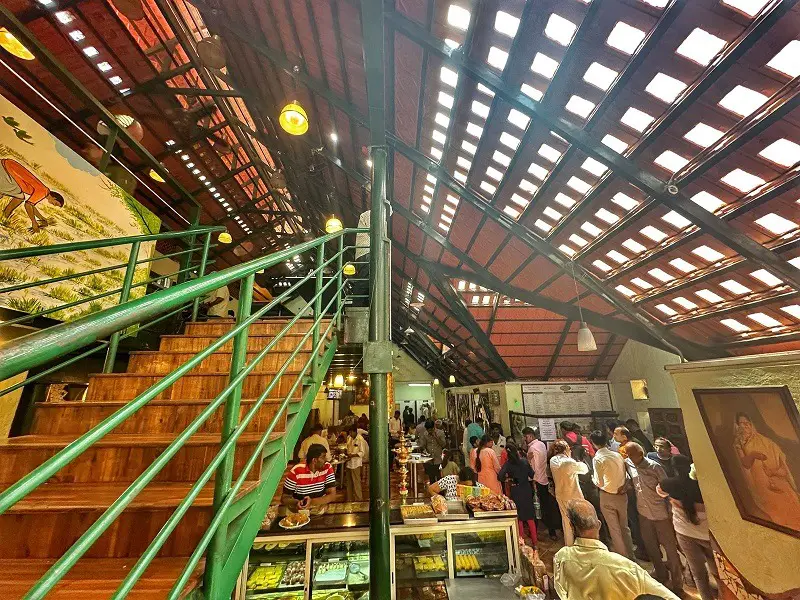 Obattu Oota at Halli Mane
As I mentioned, during my second visit, I visited Halli Mane specifically for its Obattu Oota. The prices for these Obattu Oota are very affordable and start from Rupees 250 per adult only. Served on banana leaf, the meal served has many variety of South Indian dishes and depending on the dish, they are served either in limited or unlimited quantities.
Note: The meal prices are cheaper for kids.
During my visit, the following food were served as Obattu Oota and as you can see it is a lot for just Rupees 250 per meal:
Payasa (sweet dish) – Limited
Welcome drink – Limited
Obattu/Holige – Limited
Kosambri palya – Unlimited
Vegetable palya – Unlimited
Apla/Papad – Unlimited
Akki Rotti – Unlimited
Ragi Rotti – Unlimited
Chutney – Unlimited
Mini Masala Dose – Unlimited
Poori – Unlimited
Veg curry – Unlimited
Panner curry – Unlimited (Not sure why we have Panner curry as this is not South Indian)
Pulav and Mosarubajji/Raitha – Unlimited
Bisibele Bath – Unlimited
White Rice – Unlimited
Rasam – Unlimited
Curd Rice – Unlimited
Pickle – Unlimited
Water bottle – Limited
Thambula – Limited
Ice cream – Limited
I enjoyed most of the dishes that were served, except for a few that could have been better. The vegetable palya and the rottis were awesome, along with Obattu.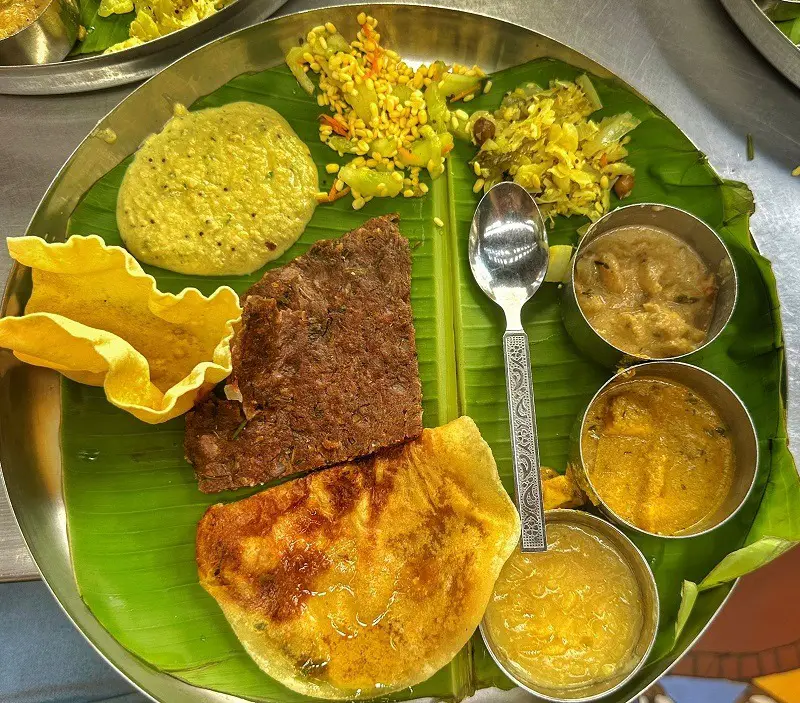 Closing Notes
Even though the food at Halli Mane is tasty, I feel that there are many other restaurants in Bangalore where the service, hygiene and the food are much better. If you are in Malleshwaram, then try visiting Halli Mane otherwise you can give this restaurant a skip.
If you enjoyed and liked this article, do comment, tweet or share this post.
Do you have a question or a suggestion? Or want to know more information? Write to me at bengaluruprayana@gmail.com.
PIN for later reference