Discover the Beauty of Pink Trumpet Flowers in Bangalore: A Blooming Spectacle (2024)
Adorably known as the Garden City, Bengaluru or Bangalore is popular for its greenery around the city. With many hidden gems and popular treasures in the city, the Pink Trumpets in Bangalore are also the true display of the nature's beauty. In this post, you will find the details of finding the Pink Trumpet Flowers in Bangalore.
This article may contain affiliate links. For full information, please see our affiliate disclaimer here.
About Pink Trumpet Flowers (Botanical Name: Tabebuia Rosea)
Native to Central and South America, the pink trumpet flowers are known for their trumpet-shaped blossoms and come in various shades of pink. Growing in clusters on the branches, the pink trumpet flowers are delicate with pleasant scent. Scientifically known as Tabebuia Rosea, the trees are part of the Bignoniaceae family.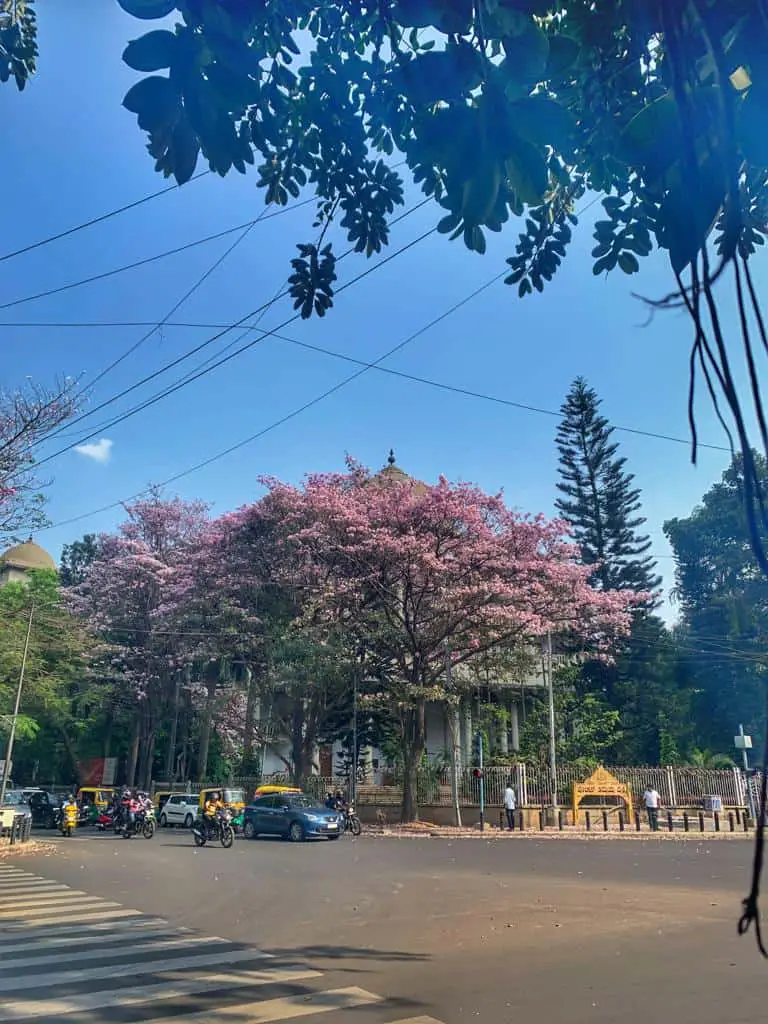 Where to Find Pink Trumpet Flowers in Bangalore?
Silkboard
Usually famous for the wrong reasons of traffic and bottle-neck junction in Bangalore (one of the things to know before visiting Bangalore), Silkboard is one of the places to see the pink trumpet flowered trees. The streets have many trees that have clusters of these flowers and make a pretty sight.
Cubbon Park
Built in 1870, Cubbon Park is one of the popular public parks in Bangalore. It is spread across 300 acres and is home to many species of trees and plants, including the Pink Trumpet Flowers / Tabebuia rosea. This is best place to take stunning pictures of the park and trees. When you are in Cubbon Park, try to visit the other places in the vicinity such as Vidhana Soudha, Government Museum and the Visvesvaraya Industrial and Technological Museum.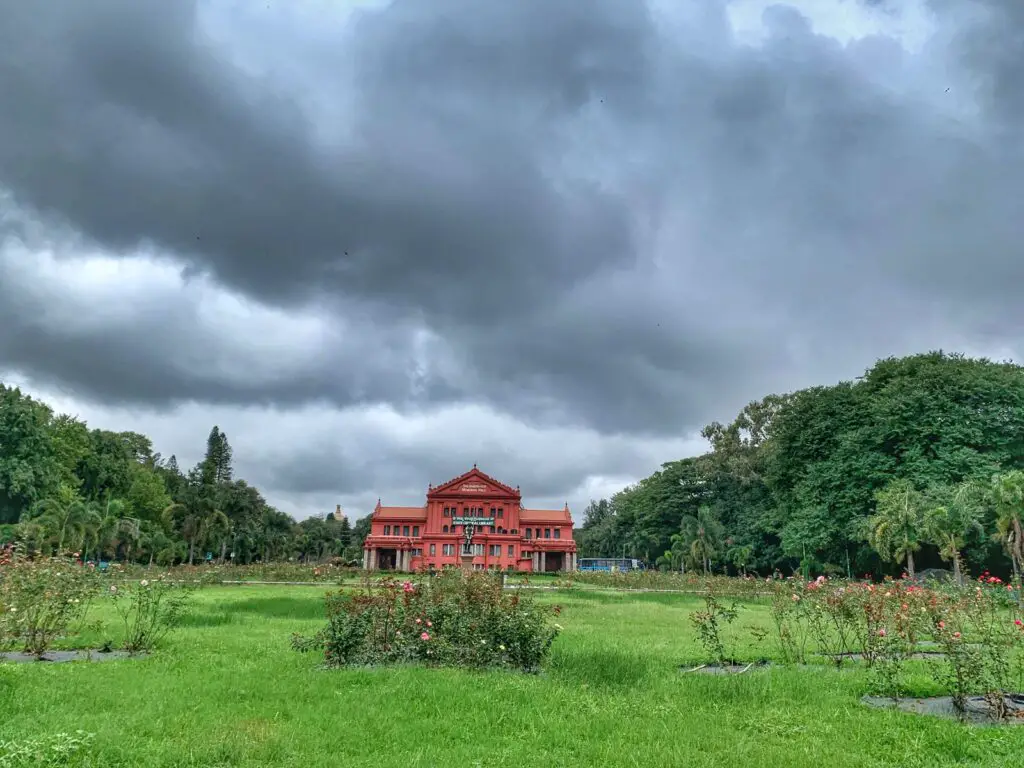 Lalbagh Botanical Garden
Spread across 240 acres, Lalbagh Botanical Garden is another public park in Bangalore. There are more than 1000 species of trees and places in the park and is one of the best places to witness the pink trumpets. The park has many things to do and when you are here you must take the Lalbagh heritage walk.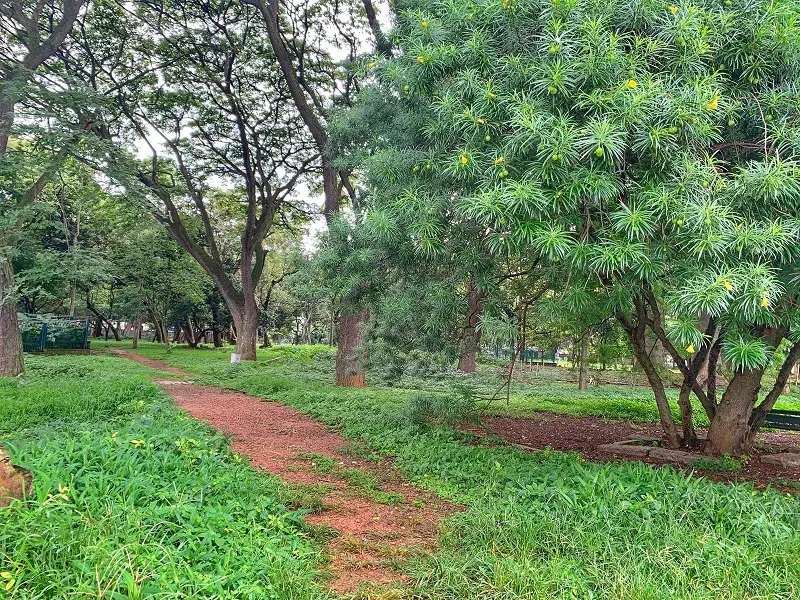 AECS Layout in Whitefield
Amrutha Engineering Consultancy Services (AECS) Layout in Whitefield has a series of trees with pink trumpets. It is a well-known residential area with a mix of apartments, villas, schools, and parks. The area has some green spaces and parks, providing opportunities for recreation and relaxation. There are also restaurants and cafes near the layout.
Malleshwaram Streets
One of the oldest areas in Bangalore is Malleshwaram. Malleshwaram is a well-established and prominent residential and commercial locality in Bangalore The streets of Malleshwaram have plenty of old trees. And during the spring season, these streets become pink with the pink trumpets. Prominent streets in Malleshwaram are Margosa Road, and Sampige Road.
Malleshwaram reminds me of my childhood as I grew up in this area. From morning filter coffee to busy shopping streets, Malleshwaram is a trip down the memory lane.
Jayanagar Streets
Jayanagar is another earliest planned area in Bangalore. It is known for its tree-lined streets and organised layout, Jayanagar is perfect to hang out and see the pink trumpets during the season. With a mix of residential and commercial streets, Jayanagar streets are well-planned and have well-maintained sidewalks.
Kundanahalli Gate
Located in Whitefield, Kudanahalli Gate hosts various IT parks and office spaces, making it a prime destination for tech professionals and businesses. Reflecting the multicultural nature of the city, the area has parks, fitness centers, and entertainment facilities.
Yelahanka
Dating back to the Chola dynasty and the rule of Kempe Gowda I, Yelahanka is a well-planned residential area. The area is vast and has parks, sports facilities, and cultural events. Yelahanka Lake, one of the Bangalore lakes, is a scenic spot for relaxation. The locality is known for its greenery and open spaces, and it is great to see the pink trumpets.
Best Time to See the Blooming Spectacle of Pink Trumpets in Bangalore
The best time to see this amazingly beautiful display of Pink Trumpets is during the spring season which are between the months of March and May. The entire Bangalore is painted pink and these trees are in full bloom.
Tips for Photographing Pink Trumpet Flowers
These are some of the tips for photographing these vibrant pink flowers.
Go to the area or place where they are in full bloom.
Visit either early morning or late afternoon to avoid harsh sunlight.
Use a close-up filter or macro lens to get up close to the flower.
Hold the camera steady. Use a tripod.
Pay attention to the composition of the picture.
If you can, create a bokeh effect.
Colour grade your picture with post-processing tool.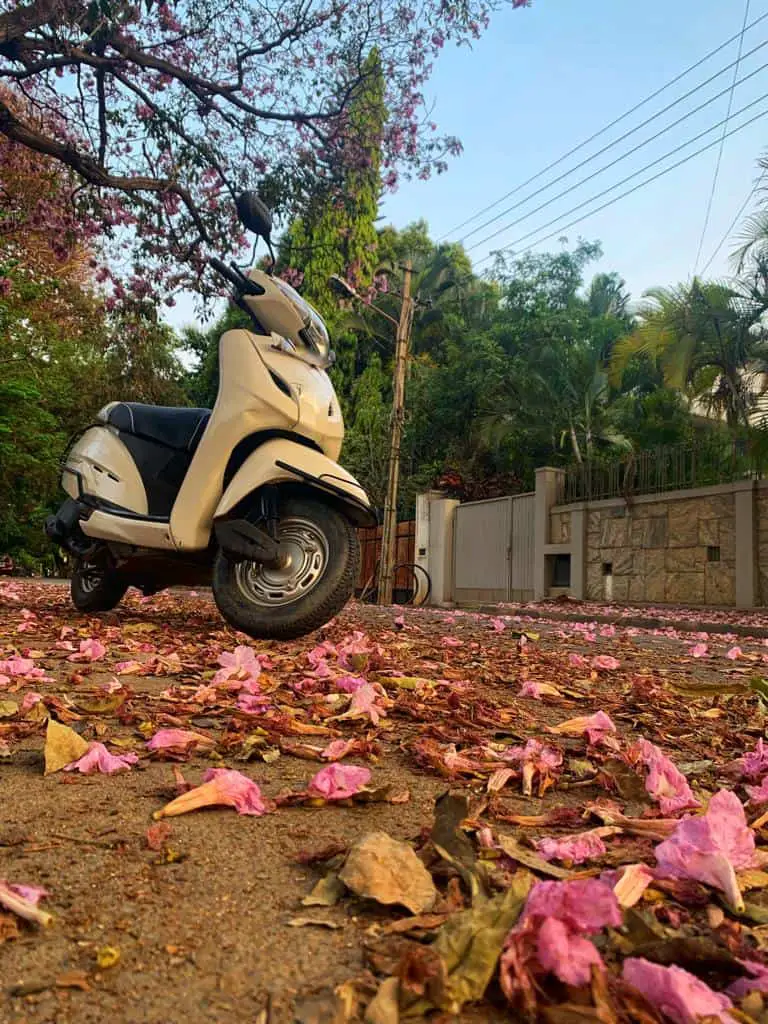 Frequently Asked Questions (FAQ) about Pink Trumpet Flowers
Q: What are Pink Trumpet Flowers, and why are they famous in Bangalore?
Scientifically known as Tabebuia Rosea, the Pink Trumpet Flowers are vibrant pink flowers native to Central and South America. They are very popular in Bangalore because they resemble the Cherry blossoms (also called Hanami flowers) found in Japan.
Q: When is the best time to see Pink Trumpet Flowers in Bangalore?
You can see these trees in full bloom during the spring season (between March and May).
Q: Where can I find Pink Trumpet Flowers in Bangalore?
The whole city and its streets are filled with pink flowers. But if you want to see the array of these pink trees then visit the Cubbon Park, Lalbagh Botanical Garden, and streets of Malleshwaram, Jayanagar, and Yelahanka.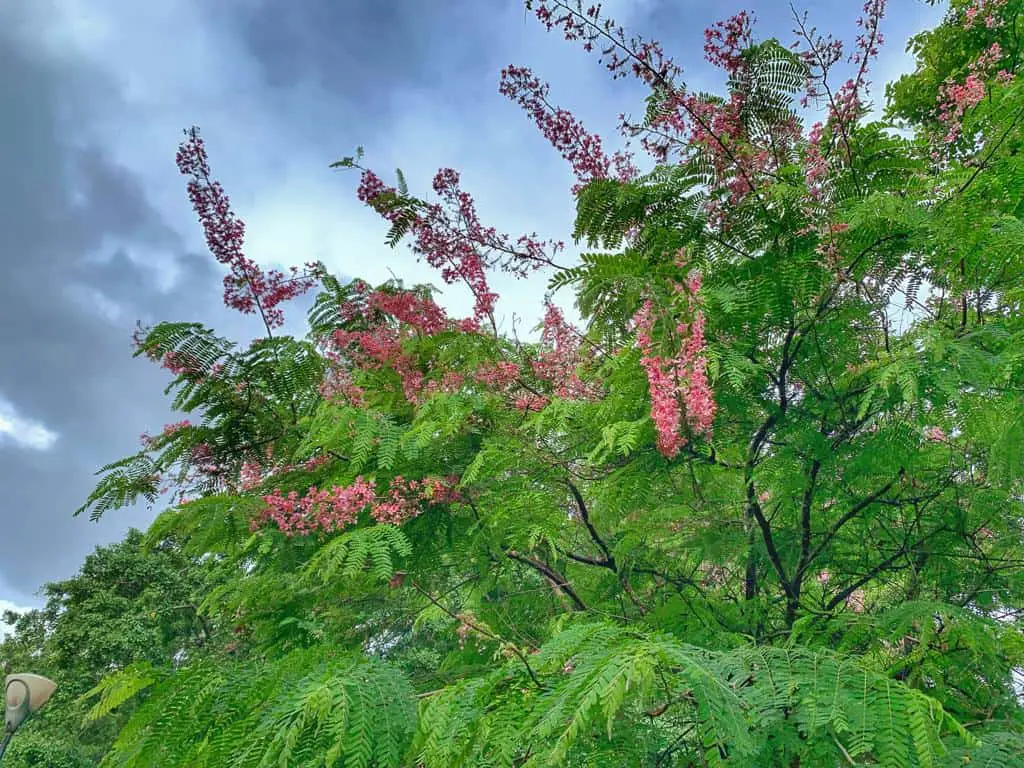 Q: What makes Pink Trumpet Flowers unique and special?
They are unique for their shape. The flowers have striking pink trumpet-shaped blossoms. With plenty of flowers on one single tree make a spectacular sight.
Q: Do Pink Trumpet Flowers have any cultural significance in Bangalore?
Symbolising the arrival of spring season, these flowers are associated with spring festival and events in Bangalore.
Q: Can I take photographs of Pink Trumpet Flowers in public gardens in Bangalore?
Yes of course! You can take as many pictures as you wish of the pink trumpet flowers in the public gardens using your mobile phones. But note that big cameras like the DSLR and drones are not allowed in the public parks.
Closing Notes
In conclusion, the Pink Trumpet Flowers are a natural wonder in the city that you must not miss when you are in the city. Plan your visit to the locations mentioned in the post and immerse yourself in the vibrant beauty. They offer a unique and breathtaking experience.
How can you support me?
You know how much I love coffee, so you can buy me a coffee – Buy me Coffee!
Or you can purchase from my Travel Resources without any extra charge to you:
– For flight bookings – Use Skyscanner
– For stay and accommodations – Use Stay22
– For a comprehensive travel insurance – Use SafetyWing
– For tours and activity bookings – Use Viator or GetYourGuide
---
If you enjoyed and liked this article, do comment, tweet or share this post.
Do you have a question or a suggestion? Or want to know more information? Write to me at bengaluruprayana@gmail.com.
Subscribe to my newsletter
PIN for later reference